Bluescreen (Mirador #1) (Paperback)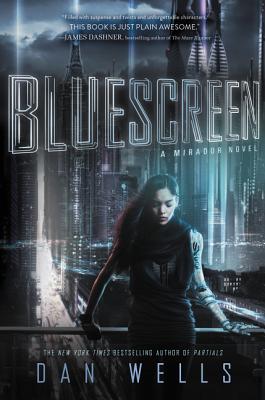 $9.99
Currently unavailable from publisher and distributor
Other Books in Series
This is book number 1 in the Mirador series.
Description
---
"Bluescreen is a stunning deluge of imagination, filled with suspense and twists and unforgettable characters. This book is just plain awesome."—James Dashner, bestselling author of The Maze Runner
From Dan Wells, author of the New York Times bestselling Partials Sequence, comes the first book in a new sci-fi-noir series. Los Angeles in 2050 is a city of open doors, as long as you have the right connections. That connection is a djinni—a smart device implanted right in a person's head. In a world where virtually everyone is online twenty-four hours a day, this connection is like oxygen—and a world like that presents plenty of opportunities for someone who knows how to manipulate it.
Marisa Carneseca is one of those people. She might spend her days in Mirador, but she lives on the net—going to school, playing games, hanging out, or doing things of more questionable legality with her friends Sahara and Anja. And it's Anja who first gets her hands on Bluescreen—a virtual drug that plugs right into a person's djinni and delivers a massive, nonchemical, completely safe high. But in this city, when something sounds too good to be true, it usually is, and Mari and her friends soon find themselves in the middle of a conspiracy that is much bigger than they ever suspected.
About the Author
---
Dan Wells is the author of the Mirador series (Bluescreen, Ones and Zeroes, and Active Memory), as well as the New York Times bestselling Partials Sequence and the John Cleaver series—the first book of which, I Am Not a Serial Killer, has been made into a major motion picture. He has been nominated for the Campbell Award and has won a Hugo Award and three Parsec Awards for his podcast Writing Excuses. He plays a lot of games, reads a lot of books, and eats a lot of food, which is pretty much the ideal life he imagined for himself as a child. You can find out more online at www.thedanwells.com.
Praise For…
---
"Filled with suspense and twists and unforgettable characters. This book is just plain awesome." — James Dashner, bestselling author of The Maze Runner
"This fascinatingly speculative tale, first in a series, full of diverse characters, owes much to M.T. Anderson's Feed, and it's just as exciting and innovative. Readers won't be able to put this sci-fi thriller down." — SLJ (starred review)
"Wells' first in a new science-fiction series is an action-packed, twisty thriller mystery set in an all-too-believable future. Fans of futuristic dystopias will be clamoring for more adventures in Mirador." — Kirkus Reviews
"The ethnically diverse cast features several strong, resourceful women, while Marisa's struggles with her artificial arm add another layer to the story, helping it stand out as more than a typical SF adventure. It's an engaging start to Wells's Mirador series." — Publishers Weekly
"Dan Wells is a master of both suspense and sheer, bombastic fun. I loved Bluescreen. Do yourself a favor and start reading this right now." — Brandon Sanderson, bestselling author of Steelheart