Active Memory (Mirador #3) (Hardcover)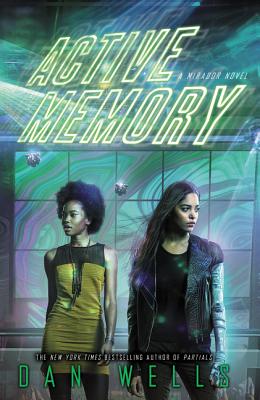 $17.99
Currently unavailable from publisher and distributor
Other Books in Series
This is book number 3 in the Mirador series.
Description
---
From Dan Wells, author of the New York Times bestselling Partials Sequence, comes the third installment in a thrilling sci-fi noir series set in 2050 Los Angeles.
Even in a world where technology connects everyone's minds, it would seem that some secrets can still remain hidden.
For all the mysteries teen hacker Marisa Carneseca has solved, one has always eluded her: When she was two years old, she was in a car accident in which she lost her arm and a mob boss's wife, Zenaida de Maldonado, lost her life. No one can tell her what she was doing in that car, or how it led to the feud between the Carnesecas and the Maldonados.
The secrets from the past rise violently to the surface when Zenaida's freshly severed hand shows up at the scene of a gangland shooting. If Zenaida is—or was—still alive, it means there's even more about Marisa's past that she doesn't know.
And when everyone from Los Angeles gangs to the world's largest genetic engineering firms becomes involved in the case, it's clear there's more happening under the surface than anyone cares to admit.
The truth is out there, and Marisa will have to thread together lost friends, corporate assassins, a gang lord's digital brain, and what might be a literal ghost from the past in order to find it.
About the Author
---
Dan Wells is the author of the Mirador series (Bluescreen, Ones and Zeroes, and Active Memory), as well as the New York Times bestselling Partials Sequence and the John Cleaver series—the first book of which, I Am Not a Serial Killer, has been made into a major motion picture. He has been nominated for the Campbell Award and has won a Hugo Award and three Parsec Awards for his podcast Writing Excuses. He plays a lot of games, reads a lot of books, and eats a lot of food, which is pretty much the ideal life he imagined for himself as a child. You can find out more online at www.thedanwells.com.