One Hundred Years of Solitude slipcased edition (Hardcover)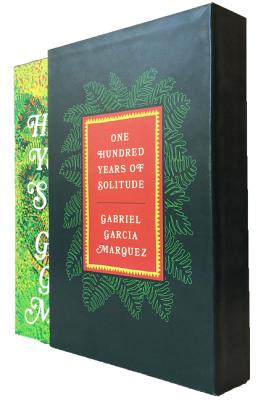 Description
---
"One Hundred Years of Solitude is the first piece of literature since the Book of Genesis that should be required reading for the entire human race....Mr. Garcia Marquez has done nothing less than to create in the reader a sense of all that is profound, meaningful, and meaningless in life."
—William Kennedy, New York Times Book Review 
"More lucidity, wit, wisdom, and poetry than is expected from 100 years of novelists, let alone one man."
—Washington Post
One of the twentieth century's most beloved and acclaimed novels, available in a special limited slip-cased edition.
In 1967, One Hundred Years of Solitude launched Gabriel García Márquez to international fame, and cemented his reputation as a literary legend. A central figure in the Latin Boom, García Márquez was the most celebrated practitioner of the literary style that has become known as magic realism, and in 1982, received the highest literary achievement: the Nobel Prize for Literature.
Chilean poet and Nobel Laureate Pablo Neruda called One Hundred Years of Solitude, "the greatest revelation in the Spanish language since Don Quixote of Cervantes." In the New York Times legendary critic John Leonard proclaimed, "with a single bound, Gabriel García Márquez leaps onto the stage with Günter Grass and Vladimir Nabokov." And writer William Kennedy has hailed García Márquez's masterpiece as, "the first piece of literature since the Book of Genesis that should be required reading for the entire human race. Mr. García Márquez has done nothing less than to create in the reader a sense of all that is profound, meaningful, and meaningless in life."
Over four decades after its publication, One Hundred Years of Solitude remains one of the most beloved and venerated books in world literature. A rich and brilliant chronicle of life and death, it tells the story of the mythical town of Macondo through the lives of seven generations of the doomed Buendía family. In the noble, ridiculous, beautiful, and tawdry story of the Buendías, one sees all of humanity, just as in the history, myths, growth, and decay of Macondo, one sees all of Latin America.
Alternately reverential and comical, One Hundred Years of Solitude interweaves the political, personal, and spiritual, bringing a new consciousness to storytelling; this radiant work is no less than an accounting of the history of the human race.
This special edition is a re-designed jacketed hardcover featuring colored endpapers in a beautiful, elegant slipcase.
About the Author
---
Gabriel García Márquez was born in 1927 in the town of Aracataca, Columbia.Latin America's preeminent man of letters, he was awarded the Nobel Prize in Literature in 1982. García Márquez began his writing career as a journalist and is the author of numerous other works of fiction and nonfiction, including the novels The Autumn of the Patriarch and Love in the Time of Cholera, and the autobiography Living to Tell the Tale. There has been resounding acclaim for his life's work since he passed away in April 2014.
Praise For…
---
"One Hundred Years of Solitude is the first piece of literature since the Book of Genesis that should be required reading for the entire human race. It takes up not long after Genesis left off and carries through to the air age, reporting on everything that happened in between with more lucidity, wit, wisdom, and poetry that is expected from 100 years of novelists, let alone one man. . . . Mr. García Márquez has done nothing less than to create in the reader a sense of all that is profound, meaningful, and meaningless in life." — William Kennedy, New York Times Book Review
"More lucidity, wit, wisdom, and poetry than is expected from 100 years of novelists, let alone one man." — Washington Post Book World
"At 50 years old, García Márquez's masterpiece is as important as ever. . . To experience a towering work like One Hundred Years of Solitude is to be reminded of the humility we should all feel when trying to assert what is true and what is false." — LitHub
"An irresistible work of storytelling, mixing the magic of the fairy tale, the realistic detail of the domestic novel and the breadth of the family saga." — New York Times
"One Hundred Years of Solitude is substantive and substantial, and its prose precise for the simple reason that its sentences are too exquisite to be inessential. It is a novel on which is bestowed the laurels usually awarded to great works of frugal prose. Yet its genius is in the operatic telling." — The Independent
"One Hundred Years of Solitude offers plenty of reflections on loneliness and the passing of time. It can also be seen as a caustic commentary on the evils of war, or a warm appreciation of familial bonds. García Márquez has urgent things to say that still feel close to home, 50 years after the book was first published." — The Guardian
"One of the seminal works of 20th century Latin American fiction, it is a classic." — Variety
"Fecund, savage, irresistible. . . . In all their loves, madness, and wars, their alliances, compromises, dreams and deaths...the characters rear up large and rippling with life against the green pressure of nature itself." — Paul West, Book World