Somewhere We Are Human: Authentic Voices on Migration, Survival, and New Beginnings (Hardcover)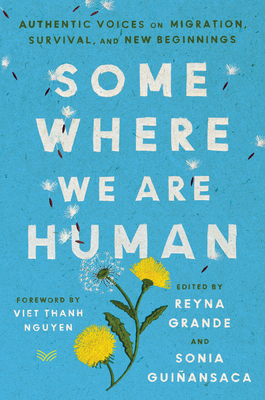 $27.99
Currently unavailable from publisher and distributor
Description
---
""Wide-ranging yet consistently affecting, these pieces offer a crucial and inspired survey of the immigrant experience in America."" –Publishers Weekly
"[These contributions] touch on so many different facets of the immigrant experience that readers will find much to ponder... [and] experience how creative writing enriches our understanding of each other and our lives." –Booklist
Introduction by Pulitzer Prize–winning author Viet Thanh Nguyen
A unique collection of 41 groundbreaking essays, poems, and artwork by migrants, refugees and Dreamers—including award-winning writers, artists, and activists—that illuminate what it is like living undocumented today.
In the overheated debate about immigration, we often lose sight of the humanity at the heart of this complex issue. The immigrants and refugees living precariously in the United States are mothers and fathers, children, neighbors, and friends. Individuals propelled by hope and fear, they gamble their lives on the promise of America, yet their voices are rarely heard.
This anthology of essays, poetry, and art seeks to shift the immigration debate—now shaped by rancorous stereotypes and xenophobia—towards one rooted in humanity and justice. Through their storytelling and art, the contributors to this thought-provoking book remind us that they are human still. Transcending their current immigration status, they offer nuanced portraits of their existence before and after migration, the factors behind their choices, the pain of leaving their homeland and beginning anew in a strange country, and their collective hunger for a future not defined by borders.
Created entirely by undocumented or formerly undocumented migrants, Somewhere We Are Human is a journey of memory and yearning from people newly arrived to America, those who have been here for decades, and those who have ultimately chosen to leave or were deported. Touching on themes of race, class, gender, nationality, sexuality, politics, and parenthood, Somewhere We Are Human reveals how joy, hope, mourning, and perseverance can take root in the toughest soil and bloom in the harshest conditions.
About the Author
---
Born in Mexico, Reyna Grande is the author of the bestselling memoirs The Distance Between Us and its sequel, A Dream Called Home, as well as the novels Across a Hundred Mountains, Dancing with Butterflies, and A Ballad of Love and Glory. Reyna has received an American Book Award, the El Premio Aztlán Literary Award, and a Latino Spirit Award. The young reader's version of The Distance Between Us received an International Literacy Association Children's Book Award. Her work has appeared in the New York Times and the Washington Post's The Lily, on CNN, and more. She has appeared on Oprah's Book Club and has taught at the Macondo Writers Workshop, VONA, Bread Loaf, and other conferences for writers. 
Sonia Guiñansaca is an internationally acclaimed poet, culture strategist, and activist who was born in Ecuador (Kichwa-Kañari), and at the age of five, migrated to the United States to reunite with their parents in New York. Guiñansaca helped build some of the largest undocumented organizations in the U.S and co-founded some of the first artistic projects, writers retreats, and workshops for and by undocumented writers. They have been awarded residencies and fellowships from Voices of Our Nation Arts Foundation, BOAAT Writer's Retreat, and the Hemispheric Institute for Performance & Politics, among others. They have performed at venues such as the Met and the Public Theater in New York City, and featured on PEN America, PBS, Interview Magazine, Ms. Magazine, Teen Vogue, and other media outlets. Sonia self-published a debut chapbook, Nostalgia and Borders, and contributed to the new edition of the ColonizeThis! Anthology and This is Not a Gun.
Praise For…
---
"Wide-ranging yet consistently affecting, these pieces offer a crucial and inspired survey of the immigrant experience in America." — Publishers Weekly
"A timely and necessary text ... [Somewhere We Are Human] proves that very different voices telling unique stories can, when presented together, become a very cohesive, very humane manifesto." — San Francisco Chronicle
"[These contributions] touch on so many different facets of the immigrant experience that readers will find much to ponder... [and] experience how creative writing enriches our understanding of each other and our lives."
— Booklist
"An innovative, artful collection of diverse, undocumented voices." — Kirkus Reviews
"[Somewhere We Are Human is] a tapestry of diverse experiences and perspectives that mirror the vast and complex realities of migration, which often get lost or erased from the conversation ... Even if you think you've heard these stories before, you haven't really until you've read them as told in their own words and in their own terms."

— Mother Jones
"This collection is not only a great read, but an important one. I applaud everyone involved." — Luis Alberto Urrea, Pulitzer-Prize finalist and bestselling author of The Devil's Highway
"Urgent, necessary, and bold . . . [Grande and Guiñansaca's] meticulous selections offer us an extraordinary range of histories, perspectives, and—most touchingly—dreams."  — Rigoberto González, National Book Award Finalist and author of the American Book Award-winning Butterfly Boy
"So often these stories are told by others; now we get to hear them told by these artists themselves. What a gift as these vocal cords sing, ringing of human resilience and love, so much love." — Victoria Chang, Award-winning author of Obit and Dear Memory: Letters on Writing, Silence, and Grief