One Flew Over the Cuckoo's Nest (Paperback)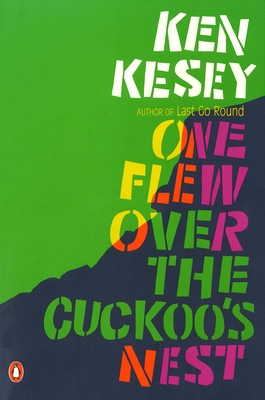 $18.00
Currently unavailable from publisher and distributor
Description
---
Ken Kesey's bracing, inslightful novel about the meaning of madness and the value of self-reliance, and the inspiration for the new Netflix original series Ratched

A mordant, wickedly subversive parable set in a mental ward, One Flew Over the Cuckoo's Nest chronicles the head-on collision between its hell-raising, life-affirming hero Randle Patrick McMurphy and the totalitarian rule of Big Nurse. McMurphy swaggers into the mental ward like a blast of fresh air and turns the place upside down, starting a gambling operation, smuggling in wine and women, and egging on the other patients to join him in open rebellion. But McMurphy's revolution against Big Nurse and everything she stands for quickly turns from sport to a fierce power struggle with shattering results.
With One Flew Over the Cuckoo's Nest, Kesey created a work without precedent in American literature, a novel at once comic and tragic that probes the nature of madness and sanity, authority and vitality. Greeted by unanimous acclaim when it was first published, the book has become and enduring favorite of readers.
About the Author
---
Ken Kesey was born in 1935 and grew up in Oregon. His books include Sometimes a Great Notion, Kesey's Garage Sale, Demon Box, Sailor Song, and Last Go Round (with Ken Babbs). He passed away on November 10, 2001.
Praise For…
---
"A work of genuine literary merit . . . What Mr. Kesey has done in his unusual novel is to transform the plight of a ward of inmates in a mental hospital into a glittering parable of good and evil."
--The New York Times Book Review

"[A] brilliant first novel . . . a strong, warm story about the nature of human good and evil . . . Keysey has made his book a roar of protest against middlebrow society's Rules and the invisible Rulers who enforce them."
--Time

"The final triumph of these men at the cost of a terrifying sacrifice should send chills down any reader's back. . . . This novel's scenes have the liveliness of a motion picture."
--The Washington Post

"An outstanding book . . . [Kesey's] characters are original and real. . . . This is a tirade against the increasing controls over man and his mind, yet the author never gets on a soap box. Nor does he forget that there is a thin line between tragedy and comedy."
--Houston Chronicle