The Color Purple (Penguin Vitae) (Hardcover)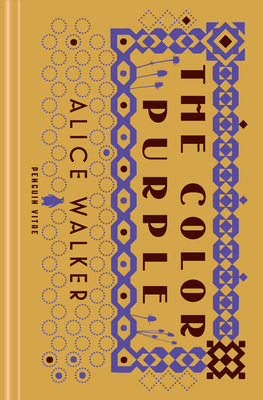 $30.00

Usually Ships in 1-5 Days
Description
---
Read the original inspiration for the new, boldly reimagined film from producers Oprah Winfrey and Steven Spielberg, starring Taraji P. Henson, Danielle Brooks, and Fantasia Barrino.

Winner of the Pulitzer Prize and the National Book Award, now in a beautiful Penguin Vitae edition with a foreword by Kiese Laymon

A Penguin Classic Hardcover

A powerful cultural touchstone of modern American literature, The Color Purple depicts the lives of African American women in early-twentieth-century rural Georgia. Separated as girls, sisters Celie and Nettie sustain their loyalty to and hope in each other across time, distance, and silence. Through a series of letters spanning nearly thirty years, first from Celie to God, then from the sisters to each other, the novel draws readers into a rich and memorable portrayal of Black women—their pain and struggle, companionship and growth, resilience and bravery.

Deeply compassionate and beautifully imagined, The Color Purple breaks the silence around domestic and sexual abuse, and carries readers on an epic and spirit-affirming journey toward transformation, redemption, and love.
About the Author
---
Alice Walker won the Pulitzer Prize and the National Book Award for her novel The Color Purple. Her other novels include By the Light of My Father's Smile and Possessing the Secret of Joy. She is also the author of three collections of short stories, three collections of essays, seven volumes of poetry, and several children's books. Born in Eatonton, Georgia, Walker now lives in Northern California.
Praise For…
---
"Reading The Color Purple was the first time I had seen Southern, Black women's literature as world literature. In writing us into the world—bravely, unapologetically, and honestly—Alice Walker has given us a gift we will never be able to repay."
—Tayari Jones

 "The Color Purple was what church should have been, what honest familial reckoning could have been, and it is still the only art object in the world by which all three generations of Black artists in my family judge American art." 
—Kiese Laymon

 "A novel of permanent importance."
—Peter S. Prescott, Newsweek

"Indelibly affecting … Alice Walker is a lavishly gifted writer."
—The New York Times Book Review

"A story of revelation . . . One of the great books of our time."
—Essence Magazine

  "A work to stand beside literature of any time and place."
—San Francisco Chronicle

"Places Walker in the company of Faulkner."
—The Nation

 "Remarkable expressiveness, color, and poignancy . . . not only a memorable and infinitely touching character but a whole submerged world is vividly called into being."
—The New York Review of Books

 "Richly evocative . . . a vibrant fugue of devotion and search for love."
—Los Angeles Herald Examiner

"A national treasure . . . A rare and lovely book."
—The Cleveland Plain Dealer

"A saga filled with joy and pain, humor and bitterness, and an array of characters who live, breathe, and illuminate the world."
—Publishers Weekly

"My go-to comfort novel is The Color Purple, by Alice Walker. Even though it touches on difficult subject matter like child abuse and forced marriage, this story believes that human kindness, courage and love can defeat any challenge. Its big, beautiful happy ending is heartfelt and hard-won. Every single time I read this book, I walk away as a slightly better person than I was when I picked it up." 
—Tayari Jones, The New York Times