Garden of the World: Asian Immigrants and the Making of Agriculture in California's Santa Clara Valley (Paperback)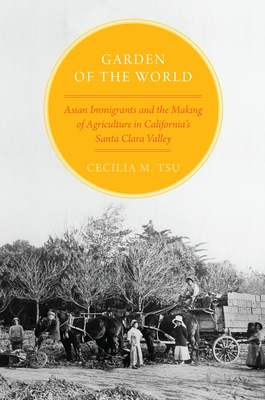 $40.95

Usually Ships in 1-5 Days
This books is not returnable and requires prepayment.
Description
---
Nearly a century before it became known as Silicon Valley, the Santa Clara Valley was world-renowned for something else: the succulent fruits and vegetables grown in its fertile soil. In Garden of the World, Cecilia Tsu tells the overlooked, intertwined histories of the Santa Clara Valley's
agricultural past and the Asian immigrants who cultivated the land during the region's peak decades of horticultural production. Weaving together the story of three overlapping waves of Asian migration from China, Japan, and the Philippines in the nineteenth and twentieth centuries, Tsu offers a
comparative history that sheds light on the ways in which Asian farmers and laborers fundamentally altered the agricultural economy and landscape of the Santa Clara Valley, as well as white residents' ideas about race, gender, and what it meant to be an American family farmer. At the heart of American racial and national identity in the nineteenth and twentieth centuries was the family farm ideal: the celebration of white European-American families operating independent, self-sufficient farms that would contribute to the stability of the nation. In California by the
1880s, boosters promoted orchard fruit growing as one of the most idyllic incarnations of the family farm ideal and the lush Santa Clara Valley the finest location to live out this agrarian dream. But in practice, many white growers relied extensively on hired help, which in the late nineteenth and
early twentieth centuries was largely Asian. Detailing how white farmers made racial and gendered claims to defend their dependence on nonwhite labor, how those claims shifted with the settlement of each Asian immigrant group, and how Chinese, Japanese, and Filipinos sought to create their own
version of the American dream in farming, Tsu excavates the social and economic history of agriculture in this famed rural community to reveal the intricate nature of race relations there.

About the Author
---
Cecilia M. Tsu is Assistant Professor of History, University of California, Davis.