What It Feels Like: Visceral Rhetoric and the Politics of Rape Culture (Rhetoric and Democratic Deliberation #27) (Hardcover)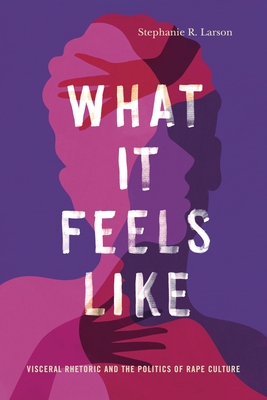 $99.95

Usually Ships in 1-5 Days
Description
---
What It Feels Like interrogates an underexamined reason for our failure to abolish rape in the United States: the way we communicate about it. Using affective and feminist materialist approaches to rhetorical criticism, Stephanie Larson examines how discourses about rape and sexual assault rely on strategies of containment, denying the felt experiences of victims and ultimately stalling broader claims for justice.
Investigating anti-pornography debates from the 1980s, Violence Against Women Act advocacy materials, sexual assault forensic kits, public performances, and the #MeToo movement, Larson reveals how our language privileges male perspectives and, more deeply, how it is shaped by systems of power--patriarchy, white supremacy, ableism, and heteronormativity. Interrogating how these systems work to propagate masculine commitments to "science" and "hard evidence," Larson finds that US culture holds a general mistrust of testimony by women, stereotyping it as "emotional." But she also gives us hope for change, arguing that testimonies grounded in the bodily, material expression of violation are necessary for giving voice to victims of sexual violence and presenting, accurately, the scale of these crimes. Larson makes a case for visceral rhetorics, theorizing them as powerful forms of communication and persuasion.
Demonstrating the communicative power of bodily feeling, Larson challenges the long-held commitment to detached, distant, rationalized discourses of sexual harassment and rape. Timely and poignant, the book offers a much-needed corrective to our legal and political discourses.
About the Author
---
Stephanie R. Larson is Assistant Professor of Rhetoric at Carnegie Mellon University.