Immigration: An American History (Hardcover)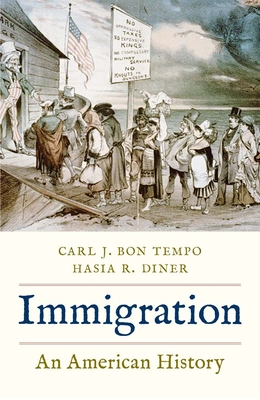 $40.00

Usually Ships in 1-5 Days
Description
---
A sweeping narrative history of American immigration from the colonial period to the present
 
"A masterly historical synthesis, full of wonderful detail and beautifully written, that brings fresh insights to the story of how immigrants were drawn to and settled in America over the centuries."—Nancy Foner, author of One Quarter of the Nation
 
The history of the United States has been shaped by immigration. Historians Carl J. Bon Tempo and Hasia R. Diner provide a sweeping historical narrative told through the lives and words of the quite ordinary people who did nothing less than make the nation.
 
Drawn from stories spanning the colonial period to the present, Bon Tempo and Diner detail the experiences of people from Europe, Asia, Africa, and the Americas. They explore the many themes of American immigration scholarship, including the contexts and motivations for migration, settlement patterns, work, family, racism, and nativism, against the background of immigration law and policy. Taking a global approach that considers economic and personal factors in both the sending and receiving societies, the authors pay close attention to how immigration has been shaped by the state response to its promises and challenges.
About the Author
---
Carl J. Bon Tempo is associate professor of history at SUNY–Albany. He lives in Cold Spring, NY. Hasia R. Diner is the Paul and Sylvia Steinberg Professor of American Jewish History at New York University. She lives in New York City.
Praise For…
---
"[The] extensive, highly detailed exploration of how conditions have evolved over many decades along the southern border will prove extremely helpful to anyone who wants to obtain a full picture of the situation. . . . This book makes sound and powerful arguments."—Rosemary Michaud, Post and Courier

"A masterly historical synthesis, full of wonderful detail and beautifully written, that brings fresh insights to the story of how immigrants were drawn to and settled in America over the centuries."— Nancy Foner, author of One Quarter of the Nation

"An erudite, insightful, and elegant account of the immigrant experience in the US from colonial to Covid times that will edify and delight scholars, students, and the lay public alike."—José C. Moya, Barnard College

"This extremely timely and important book excellently positions the history of immigration at the center of US history. It challenges the traditional chronology of US immigration history, powerfully weaving migrants' voices with those of legislators, regular Americans, and political and civic leaders."—Maddalena Marinari, author of Unwanted