Lords of Uncreation (The Final Architecture #3) (Hardcover)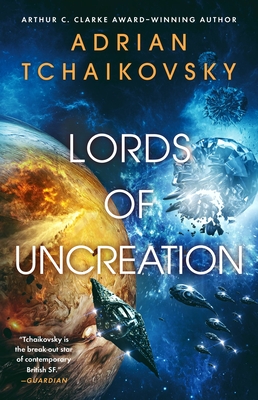 $29.00

Usually Ships in 1-5 Days
Other Books in Series
This is book number 3 in the The Final Architecture series.
Description
---
The Arthur C. Clarke award-winning author of Children of Time brings us the third and final novel in an extraordinary space opera trilogy about humanity on the brink of extinction, and how one man's discovery will save or destroy us all.

Idris Telemmier has uncovered a secret that changes everything – the Architects' greatest weakness. A shadowy Cartel scrambles to turn his discovery into a weapon against these alien destroyers of worlds. But between them and victory stands self-interest. The galaxy's great powers would rather pursue their own agendas than stand together against this shared terror.

Human and inhuman interests wrestle to control Idris' discovery, as the galaxy erupts into a mutually destructive and self-defeating war. The other great obstacle to striking against their alien threat is Idris himself. He knows that the Architects, despite their power, are merely tools of a higher intelligence. 

Deep within unspace, where time moves differently, and reality isn't quite what it seems, their masters are the true threat. Masters who are just becoming aware of humanity's daring – and taking steps to exterminate this annoyance forever.

The Final Architecture
Shards of Earth
Eyes of the Void
Lords of Uncreation 
About the Author
---
Adrian Tchaikovsky was born in Woodhall Spa, Lincolnshire, and headed off to university in Reading to study psychology and zoology. For reasons unclear even to himself, he subsequently ended up in law. Adrian has since worked as a legal executive in both Reading and Leeds and now writes full time. He also lives in Leeds, with his wife and son. Adrian is a keen live role-player and occasional amateur actor. He has also trained in stage-fighting and keeps no exotic or dangerous pets of any kind—possibly excepting his son.
Praise For…
---
"The characters Adrian Tchaikovsky has populated this world with are so grounded, so emotionally rich, and so vibrant ... not to say that Tchaikovsky does not deliver an incredibly satisfying conclusion to the mysteries of unspace (he does!). But what I'll remember most is how he crafted the perfect emotional resolution to this intellectually intricate tale that left me in tears and has stayed with me since."—Polygon

Praise for The Final Architecture: 

"Tchaikovsky's artistry is focusing on a few key, well-wrought characters facing impossible odds in keeping Idris safe while allied races turn against each other. This is space opera on the grand scale of Alastair Reynolds and Stephen R. Donaldson, leavened by humor and remarkable world building." —Booklist (starred review) on Eyes of the Void 

"Tchaikovsky again shines with his suspenseful second Final Architecture space opera (after Shards of Earth)....Tchaikovsky's intelligent worldbuilding captures the essence of classic space opera, with an intricate plot that whisks readers along on a humorous, sometimes convoluted, but always memorable adventure. Series fans will be eager for more." —Publishers Weekly on Eyes of the Void

"Enthralling, epic, immersive, and hugely intelligent." —Stephen Baxter on Shards of Earth

"Adrian Tchaikovsky: king of the spiders, master worldbuilder, and asker of intriguing questions. His books are packed with thought-provoking ideas (as well as lots of spiders; did I mention the spiders?). One of the most interesting and accomplished writers in speculative fiction." —Christopher Paolini on Shards of Earth

"Adrian Tchaikovsky's Shards of Earth is one of the most stunning space operas I've read this year....Tchaikovsky's world building is on glorious display as he throws all manner of spaceships, creepy aliens and strange technology into a delicious sci-fi soup. It's dense, it's funny, it's exciting, it's touching and it's perfect for someone looking for a space opera built on a grand scale." —BookPage (starred review) 

"Dazzlingly suspenseful...Tchaikovsky's intricately constructed world is vast yet sturdy enough to cradle inventive science, unique aliens, and complex political machinations. With a mix of lively fight scenes, friendly banter, and high-stakes intrigue, this is space opera at its best." —Publishers Weekly (starred review) on Shards of Earth

"Tchaikovsky writes space opera on a grand scale, creating a massive, complex, vividly realized future environment...He guides the reader through this endlessly intriguing universe with a rock-steady sure hand. Fans of space opera should leave the book in breathless anticipation of the second installment in the trilogy." —Booklist on Shards of Earth