The Lincoln Myth: A Novel (Cotton Malone #9) (Paperback)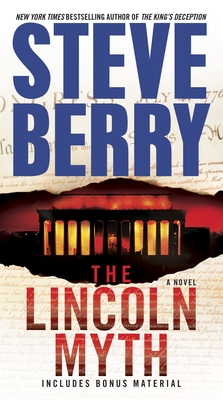 Other Books in Series
This is book number 9 in the Cotton Malone series.
Description
---
NEW YORK TIMES BESTSELLER • A Cotton Malone adventure involving a flaw in the United States Constitution, a mystery about Abraham Lincoln, and a political issue that's as explosive as it is timely—not only in Malone's world, but in ours
 
September 1861: All is not as it seems. With these cryptic words, a shocking secret passed down from president to president comes to rest in the hands of Abraham Lincoln. And as the first bloody clashes of the Civil War unfold, Lincoln alone must decide how best to use this volatile knowledge: save thousands of American lives, or keep the young nation from being torn apart forever?
 
The present: In Utah, the fabled remains of Mormon pioneers whose nineteenth-century expedition across the desert met with a murderous end have been uncovered. In Washington, D.C., the official investigation of an international entrepreneur, an elder in the Mormon church, has sparked a political battle between the White House and a powerful United States senator. In Denmark, a Justice Department agent, missing in action, has fallen into the hands of a dangerous zealot—a man driven by divine visions to make a prophet's words reality. And in a matter of a few short hours, Cotton Malone has gone from quietly selling books at his shop in Denmark to dodging bullets in a high-speed boat chase.
 
All it takes is a phone call from his former boss in Washington, and suddenly the ex-agent is racing to rescue an informant carrying critical intelligence. It's just the kind of perilous business that Malone has been trying to leave behind, ever since he retired from the Justice Department. But once he draws enemy blood, Malone is plunged into a deadly conflict—a constitutional war secretly set in motion more than two hundred years ago by America's Founding Fathers.
 
From the streets of Copenhagen to the catacombs of Salzburg to the rugged mountains of Utah, the grim specter of the Civil War looms as a dangerous conspiracy gathers power. Malone risks life, liberty, and his greatest love in a race for the truth about Abraham Lincoln—while the fate of the United States of America hangs in the balance.

Praise for Steve Berry and his Cotton Malone series
 
"In Malone, [Steve] Berry has created a classic, complex hero."—USA Today
 
"Malone, a hero with a personal stake in the proceedings, is a welcome respite from the cold, calculating superspies who litter the genre."—Entertainment Weekly
 
"Steve Berry gets better and better with each new book."—The Huffington Post
 
"Savvy readers . . . cannot go wrong with Cotton Malone."—Library Journal
 
"Berry raises this genre's stakes."—The New York Times
 
"I love this guy."—#1 New York Times bestselling author Lee Child
About the Author
---
Steve Berry is the New York Times and #1 internationally bestselling author of The Lincoln Myth, The King's Deception, The Columbus Affair, The Jefferson Key, The Emperor's Tomb, The Paris Vendetta, The Charlemagne Pursuit, The Venetian Betrayal, The Alexandria Link, The Templar Legacy, The Third Secret, The Romanov Prophecy, and The Amber Room. His books have been translated into 40 languages with more than 18,000,000 copies in 51 countries.
 
History lies at the heart of every Steve Berry novel. It's this passion, one he shares with his wife, Elizabeth, that led them to create History Matters, a foundation dedicated to historic preservation. Since 2009 Steve and Elizabeth have traveled across the country to save endangered historic treasures, raising money via lectures, receptions, galas, luncheons, dinners, and their popular writers' workshops. To date, nearly 2,500 students have attended those workshops. In 2012 their work was recognized by the American Library Association, which named Steve the first spokesman for National Preservation Week. He was also appointed by the Smithsonian Board of Regents to serve on the Smithsonian Libraries Advisory Board to help promote and support the libraries in their mission to provide information in all forms to scientists, curators, scholars, students, and the public at large. He has received the Royden B. Davis Distinguished Author Award and the 2013 Writers for Writers Award from Poets & Writers. His novel The Columbus Affair earned him the Anne Frank Human Writes Award, and his historic preservation work merited the 2013 Silver Bullet from International Thriller Writers.
 
Steve Berry was born and raised in Georgia, graduating from the Walter F. George School of Law at Mercer University. He was a trial lawyer for 30 years and held elective office for 14 of those years. He is a founding member of International Thriller Writers—a group of more than 2,600 thriller writers from around the world—and served three years as its co-president.
 
For more information, visit www.steveberry.org.
Praise For…
---
Praise for Steve Berry and his Cotton Malone series
 
"In Malone, [Steve] Berry has created a classic, complex hero."—USA Today
 
"Malone, a hero with a personal stake in the proceedings, is a welcome respite from the cold, calculating superspies who litter the genre."—Entertainment Weekly
 
"Steve Berry gets better and better with each new book."—The Huffington Post
 
"Savvy readers . . . cannot go wrong with Cotton Malone."—Library Journal
 
"Berry raises this genre's stakes."—The New York Times
 
"I love this guy."—#1 New York Times bestselling author Lee Child