If I Survive You (Hardcover)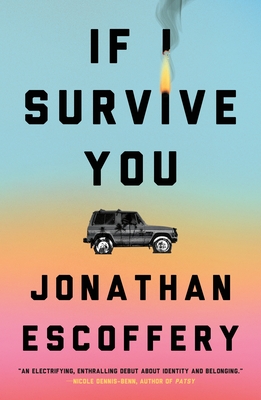 $27.00

Usually Ships in 1-5 Days
September 2022 Indie Next List
---
"A story collection that reads like a loose novel; Escoffery is a literary master. Images from this book have come unbidden to me long after reading, as though these are people who told me their stories themselves. This is a knockout debut!"
— Julie Wernersbach, P&T Knitwear Bookstore, New York, NY
Description
---
FINALIST FOR THE 2023 BOOKER PRIZE. LONGLISTED FOR THE 2022 NATIONAL BOOK AWARD FOR FICTION.

Finalist for the 2023 Pen/Faulkner Award and the Southern Book Award. Nominated for the 2022 National Book Critics Circle John Leonard Prize, the 2023 Pen/Jean Stein Open Book Award, the 2023 Pen/Bingham Prize, the 2022 Story Prize, the 2023 Carnegie Medal for Excellence in Fiction, the 2023 Brooklyn Library Prize, and the 2023 Aspen Words Literary Prize. National Bestseller. IndieNext Pick. One of The New York Times Book Review's 100 Notable Books of 2022.

"If I Survive You is a collection of connected short stories that reads like a novel, that reads like real life, that reads like fiction written at the highest level." —Ann Patchett

A major debut, blazing with style and heart, that follows a Jamaican family striving for more in Miami, and introduces a generational storyteller.

In the 1970s, Topper and Sanya flee to Miami as political violence consumes their native Kingston. But America, as the couple and their two children learn, is far from the promised land. Excluded from society as Black immigrants, the family pushes on through Hurricane Andrew and later the 2008 recession, living in a house so cursed that the pet fish launches itself out of its own tank rather than stay. But even as things fall apart, the family remains motivated, often to its own detriment, by what the younger son, Trelawny, calls "the exquisite, racking compulsion to survive."

Masterfully constructed with heart and humor, the linked stories in Jonathan Escoffery's If I Survive You center on Trelawny as he struggles to carve out a place for himself amid financial disaster, racism, and flat-out bad luck. After a fight with Topper, Trelawny claws his way out of homelessness through a series of odd, often hilarious jobs. Meanwhile, his brother, Delano, attempts a disastrous cash grab to get his kids back, and his cousin Cukie looks for a father who doesn't want to be found. As each character searches for a foothold, they never forget the profound danger of climbing without a safety net.

Pulsing with vibrant lyricism and inimitable style, sly commentary and contagious laughter, Escoffery's debut unravels what it means to be in between homes and cultures in a world at the mercy of capitalism and whiteness. With If I Survive You, Escoffery announces himself as a prodigious storyteller in a class of his own, a chronicler of American life at its most gruesome and hopeful.
About the Author
---
Jonathan Escoffery is the recipient of the 2020 Plimpton Prize for Fiction, a 2020 National Endowment for the Arts Literature Fellowship, and the 2020 ASME Award for Fiction. His fiction has appeared in The Paris Review, American Short Fiction, Prairie Schooner, AGNI, Passages North, Zyzzyva, and Electric Literature, and has been anthologized in The Best American Magazine Writing. He is a fellow in the University of Southern California's PhD in Creative Writing and Literature Program, and in 2021 he was awarded a Wallace Stegner Fellowship from Stanford University. He was raised in Miami, Florida. If I Survive You is his first book.
Praise For…
---
One Of Time and People's Top Ten Books Of 2022 • Named one of the best books of 2022 by The New Yorker, NPR, Oprah Daily, Los Angeles Times, Entertainment Weekly, Apple, Fresh Air's Maureen Corrigan, The Boston Globe, Buzzfeed, Vox, The Philadelphia Inquirer, The Atlanta Journal-Constitution, Booklist, Electric Literature, Library Journal, Kirkus, and Debutiful

"[Escoffery] is, throughout, a gifted, sure-footed storyteller, with a command of evocative language and perfectly chosen details . . . Perhaps most important, he wields a disarming, irreverent sense of humor . . . [If I Survive You] makes me eager to read him for a long time to come." —Andrew Martin, The New York Times Book Review

"A ravishing debut . . . There's peacocking humor, capers, and passages of shuddering eroticism. The book feels thrillingly free . . . [Escoffery's] stories also stress the ebullience, the possibility, that can emerge from in-betweenness." —Katy Waldman, The New Yorker

"Not since Moby Dick has the all-American ethos of 'sink or swim' on your own been dramatized to such devastating effect. If I Survive You is an extraordinary debut collection, an intensively granular, yet panoramic depiction of what it's like to try to make it — or not — in this kaleidoscopic madhouse of a country." —Maureen Corrigan, NPR's Fresh Air

"Escoffery's debut is nothing short of breathtaking. Eight linked stories that mostly revolve around a Jamaican immigrant family living in Miami, it is the rich storytelling and triumphant worldbuilding that makes this collection an instant classic. The technical skill on the page is a feat to behold, each story leaving the reader with a sense that they have read an entire novel after only a few pages." —The Today Show

"Stunning . . . there's an ease, exuberance, and energy about Escoffery's writing, and despite its darkness it is thrilling to read . . . Escoffery's prose, by turns muscular and dense, is vivid and expressively true to the Jamaican voice . . . Escoffery's exploration of the lure and commodification of danger among middle-class Americans stultified by their wealth is darkly funny and unsettling." —Colin Grant, The New York Review of Books

"Jonathan Escoffery's radiant collection of linked stories, If I Survive You, may well be the buzziest debut of 2022. . . . In crystalline prose, Escoffery evokes the fluorescent textures of Miami, tapping Caribbean traditions, immigrant aspirations, and familial and communal bonds." —Hamilton Cain, OprahDaily

"Escoffery's already much-lauded novel-in-stories traces the turns and tribulations of a Jamaican American family in Miami — multifaceted tales of identity, displacement, and odd jobs (what happens on Craigslist does not stay on Craigslist) interwoven into a loose, vibrant whole." —Leah Greenblatt, Entertainment Weekly

"[In Escoffery's hands] the second person is arresting, intimate, adventurous, attuned, sophisticated . . . a dazzling debut of racial identity . . . In the final pages, the collection surges with the symphonic, imaginative, propulsive energy of Gabriel García Márquez into a vision of a possible future for Trelawny. We find ourselves resisting it because our fate is wrapped up in his, and we trust that Escoffery will not flatten his characters – or us – into statistics." —Ian Williams, The Guardian

"Short stories, ideally, evoke a heightened sense of attention: Crystallized more fully than novels, they allow the breadth of a focused stretch of time, with its layers and textures, to reveal itself. At their best, Escoffery's stories do this, looping the reader into the heartbreak of fatherly rejection, into the desperation of needing just another 20 bucks." —Lynn Steger Strong, Los Angeles Times

"An intelligent, prismatic account of a family of Jamaican immigrants . . . As Escoffery spirals out to consider the lives of their siblings, wives, and cousins, he returns again and again to this primal, fundamental story: a parent of an old world and a child of a new, and all the ways they fail to understand each other." —Constance Grady, Vox

"In prose that spans various voices and dialects—Jamaican patois, the Queen's English—Escoffery illuminates the ties that bind its strivers to each other through pain, reckoning, arboricide, and maybe even redemption." —Matthew Schneier, Vulture

"One of the most refreshing fiction debuts I've read in years . . . With effortlessly transporting language and characters that are unforgettable in their singularity, this book charmed its way into my heart, where it will stay for a long time." —David Vogel, Buzzfeed

"It's rare for a story collection to break out of the gate with as much buzz as Escoffery's debut, but his linked tales justify the unusual attention . . . the author exposes uncomfortable social truths with fine details, wit and dazzling verbal versatility." —Bethanne Patrick, Los Angeles Times

"Captivating . . . Escoffery's sentences push boundaries and create a symphony of language — breaking the rules of writing while showing his mastery of them. Each chapter takes on a different style, and readers may sense they were witnessing the emergence of a master stylist . . . a lovely and complicated portrait of masculinity." —Adriana E. Ramírez, Boston Globe

"Remarkable . . . [there is an] immense talent on display in this debut." —Cory Oldweiler, Minneapolis StarTribune

"[A] blistering new collection.... The stories... are all grounded in those pernicious, though darkly funny, ways people misunderstand each other." —Jessica Zack, San Francisco Chronicle

"A worldly writer with a heartfelt, impactful debut book . . . His emotional intelligence complements his extraordinary craftsmanship." —Yvonne Conza, Los Angeles Review of Books

"A revealing, often humorous and somewhat twisted collection of stories that are as engrossing as they are memorable . . . eight connected stories that shine a light on the fable and folly of contemporary life in the United States." —Leah Tyler, The Atlanta Journal-Constitution

"There are plenty of signs Jonathan Escoffery's debut is something special . . . But perhaps most impressive is the way these linked stories about a working-class Jamaican family living in Florida inspire a skillfully engineered emotional reaction. One left me floored, another broke my heart, and yet another made me gasp . . . this is literary fiction at its most engaging, satisfying, and affecting." —Patrick Rapa, The Philadelphia Inquirer

"A sometimes funny, sometimes shocking, sometimes wrenching novel about a Jamaican family in Miami . . . Escoffery's writing is lively and engaging, his stories well crafted, and he's insightful and witty about Miami's multiracial, multicultural, multilingual population. If I Survive You is a most promising debut." —Colette Bancroft, Tampa Bay Times

"This is a polished collection that is utterly unstoppable and skewering in its precision. Where other writers would lose a story's rhythm and fullness by dividing it, Escoffery luxuriates in this spaces, using the form to underline loneliness in the midst of connection. If I Survive You is rare in that it has the heft and heart of a novel, with the refined finesse of the short story. Above all, it is a book that you simply do not want to end and, when it does, the only thing to do is press it eagerly into the hands of others." —Emma Flynn, The Irish Times

"[A] humorous and electric debut." —Katie Tamola, Shondaland

"[A] lively debut collection.... Framed by the conditional 'if' but stylistically sure-footed and concrete, If I Survive You binds the caustic with the aching of a character keenly aware of the world's vivid underinvestment in his future yet determined to keep going." —Anita Felicelli, Alta

"[A] quirky Miami masterpiece.... Escoffery just turned his own real-life Bullshit Jobs into entertaining literary inspiration.... Escoffery doesn't shy away from the tough stuff. But he does it in a way that's so thoughtful, so vulnerable, so hilarious, so authentic, and with every word so perfectly placed to cleverly build suspense and intrigue and to matter, that you'll finish it within a satisfying few sittings." —Daniel Andrés Palugyai, Miami New Times

"At turns cruel and harsh, and tender and loving, this collection is a gut punch. It circles around race, home, family, masculinity, and the elusive, torturous American Dream; and all who are beaten down as they try to reach it. Escoffery's prose is unforgettable." —Jen St. Jude, Chicago Review of Books

"Believe the hype . . . The prose in If I Survive You is lush and tight and precise and heartbreaking and hilarious, all at the same time, and Escoffery's ability to capture a Jamaican-American family's unsteady existence in and around Miami is telescopically fantastic." —Barrett Bowlin, The Rumpus

"Both outrageously funny and a piercing look at life in America, If I Survive You is the kind of book you'll think about long after you finish it." —Real Simple

"This compelling set of interrelated short stories . . . [offer] unique insight into issues of race and belonging . . . A revelatory work, full of a young man's questioning and told in a distinctive voice, this contemplation of identity, culture, and race in the United States today is highly recommended." —Library Journal (starred review)

"A blazing success. . . . A profoundly authentic vision of family dynamics and racism in America . . . These eight stories are completely immersive, humorous yet heartbreaking. . . . Escoffery brings an imaginative, fresh voice to his deep exploration of what it means to be a man, son, brother, father and nonwhite immigrant in America." —BookPage (starred review)

"A sharp and inventive debut . . . [Escoffery's] writing is clever, commanding, and flexible . . . A fine debut that looks at the complexities of cultural identity with humor, savvy, and a rich sense of place." –Kirkus Reviews (starred review)

"Escoffery's debut of interconnected short stories confirms his already prize-winning status . . . The writing and characters are nuanced, with moments of brevity and humor but much more pain and trauma. Trelawny is a wonder, constantly trying to improve himself and yet battered again and again by his own actions or more likely, those outside his control, just like the ever present Miami hurricanes." —Booklist (starred review)

"[A] vibrant and varied debut . . . This charged work keeps a tight hold on the reader." —Publishers Weekly (starred review)

"If I Survive You is a collection of connected short stories that reads like a novel, that reads like real life, that reads like fiction written at the highest level. This is a compelling hurricane of a book that sweeps the past, present and future together into one inextricable knot. This is where Jonathan Escoffery's career begins. There are no limits to where he will go." —Ann Patchett, author of The Dutch House

"I highly recommend this debut novel-in-stories—astonishingly compact and engaging fiction, and a dazzling mirror held to our identity-obsessed time." —Joyce Carol Oates

"Kaleidoscopic, urgent, hilarious, revelatory and like nothing you've read before. These are the stories that we never believed could be told, until Jonathan Escoffery told them." —Marlon James, author of Moon Witch, Spider King

"An electrifying, enthralling debut about identity and belonging. Jonathan Escoffery illuminates both beauty and trauma and the ways in which so many of us Jamaicans are still looking for home within ourselves. Told with humor and clear-eyed grace, this spectacular collection introduces us to an amazing new voice." —Nicole Dennis-Benn, author of Here Comes the Sun and Patsy

"It's truly a feat that a book of short stories tackling such big stuff—family, love, violence, race—could be so damn funny. Jonathan Escoffery is a writer only just getting started, and his first book is a welcome reminder of what fiction can do." —Rumaan Alam, author of Leave the World Behind

"If I Survive You is a collection of brilliant wit, real heart, and electric humor. Jonathan Escoffery masterfully mines from his life and emerges, in this debut, as a talent not to be ignored." —Nana Kwame Adjei-Brenyah, author of Friday Black

"A magnificent debut collection. It's astonishing what Jonathan Escoffery accomplishes in If I Survive You. These stories are told with such grace, humor, insight, and precision that readers will want to return again and again. Escoffery is a writer to watch, and we lovers of literature are fortunate to have him." —Maurice Carlos Ruffin, author of We Cast A Shadow

"Jonathan Escoffery writes the Miami I know--where shimmering landscapes and glitzy neon give way to immigrant hustle, financial scams, and societal and family tensions gathering force quietly like the eye of a hurricane. Escoffery is a keen and witty observer with range and style. An exciting new voice." —Gabriela Garcia, author of Of Women and Salt

"These are superb stories about identity, family and place. There is a beautiful economy in the telling that never sacrifices the depth, complexity and richness of the worlds these characters inhabit. Jonathan Escoffery's is a strong, much needed new voice in our literature." —Percival Everett, author of The Trees

"If I Survive You is simply one of the best debut story collections I've ever read. Unmistakably original, improbably accomplished, If I Survive You earns Jonathan Escoffery the attention deserved of an important new author." —Mat Johnson, author of Pym

"Each story in If I Survive You passes a baton to the next, though it's not for speed but for deepening. As Jonathan Escoffery's debut progresses, the characters layer, stories overlap, voices gather and the result is a moving and layered portrait of a family, at once wise and unflinching." —Aimee Bender, author of The Butterfly Lampshade

"Jonathan Escoffery's brilliant first book has some new things to tell us about racial identities, loneliness, and the search for love. It is so sharp-eyed and detailed that you feel that you are living through its scenes. The book is father-haunted and often very funny, and its prose is electric with intelligence. Somehow If I Survive You manages to be scary, humorous, and heartbreaking all at once. I loved this book." —Charles Baxter, author of The Sun Collective