Becoming Dr. Q: My Journey from Migrant Farm Worker to Brain Surgeon (Paperback)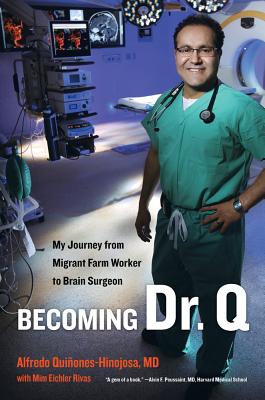 $24.95

Usually Ships in 1-5 Days
Description
---
Featured in the Netflix series The Surgeon's Cut and told here in his own words: the inspiring story of Dr. Q and his journey from migrant farmworker to premier neurosurgeon.

Today he is known as Dr. Q, an internationally renowned neurosurgeon and neuroscientist who leads cutting-edge research to cure brain cancer. But not too long ago, he was Freddy, a nineteen-year-old undocumented migrant worker toiling in the tomato fields of central California. In this gripping memoir, Alfredo Quiñones-Hinojosa tells his amazing life story—from his impoverished childhood in the tiny village of Palaco, Mexico, to his harrowing border crossing and his transformation from illegal immigrant to American citizen and gifted student at the University of California at Berkeley and at Harvard Medical School. Packed with adventure and adversity—including a few terrifying brushes with death—Becoming Dr. Q is a testament to persistence, hard work, the power of hope and imagination, and the pursuit of excellence. It's also a story about the importance of family, of mentors, and of giving people a chance.
About the Author
---
Alfredo Quiñones-Hinojosa, MD, is an Associate Professor of Neurosurgery and Oncology at Johns Hopkins University. In addition to directing the Brain Tumor Surgery Program, Dr. Q leads the Brain Tumor Stem Cell Laboratory. Named one of the one hundred most influential Hispanics in 2008, Dr. Q was also selected by Popular Science magazine as one of their Annual Brilliant Ten. Dr. Q has extensive publications in the medical field and is the lead editor for the upcoming edition of Schmidek and Sweet's Operative Neurosurgical Techniques.

Dr. Q graduated cum laude from Harvard Medical School and completed his residency in neurosurgery at the University of California, San Francisco. On the award-winning ABC series Hopkins, his was the lead episode. Along with appearances on such shows as NOVA, CNN with Sanjay Gupta, CBS news with Katie COURIC, NBC's The Today Show, as well as on National Public Radio, Dr. Q has been featured in a variety of newspapers and magazines.

Praise For…
---
"Here's a Hollywood pitch for you: Leading U.S. neurosurgeon started life as a struggling Mexican boy who made it from illegal-immigrant California farmworker to Harvard Med. Not buying it? You should. Dr. Alfredo Quiñones-Hinojosa was that kid and is that man -- associate prof, surgeon and head of the brain tumor stem cell lab at Johns Hopkins. His work puts him, passionately, on the cutting-edge of brain cancer research, and his life wedges him, reluctantly, into the immigration quarrel. He tells his story -- his traumas and triumphs, and his patients' -- in an autobiography, Becoming Dr. Q."
— Los Angeles Times

"Alfredo Quiñones, esteemed neurosurgeon and neuroscientist at Johns Hopkins University . . . . tells the amazing story of how he rose from an impoverished background as an migrant worker to become one of the most renowned physicians in his field."
— Huffington Post

"A passionate hymn to the power of the American Dream."
— Kirkus Reviews

"Becoming Dr. Q is incredible in every sense of the word. . . . Quinones-Hinojosa's long list of talents includes masterful narration. . . . This memoir is fast-paced and nearly impossible to put down. At the end, Dr. Q feels like a friend--and the only surgeon anyone would want operating on his or her brain."
— Shelf Awareness

"Quiñones-Hinojosa's story is gripping, inspiring, and just plain awesome."
— Booklist

"Dr. Q's personality jumps off the page; teens will relate to his challenges, insights, and drive. . . . The path one takes in order to become a doctor and neurosurgeon is illuminating for those considering it, and interesting regardless."
— School Library Journal

"The story he tells, helped by writer Mim Eichler Rivas, is one of twists and turns, guardian angels both real and spiritual, near death experiences, and having a person's life in his hands in the operating room. Dr Q's had to make many compromises along the way."
— KCET Socal Focus

"The real-life story of Dr. Alfredo Qui ones-Hinojosa is so amazing and seemingly unbelievable that your first reaction is to think it's a Hollywood movie script. . . . But it's true."
— San Gabriel Valley Tribune

"On Friday Sept 23, 2011, I purchased a copy of Becoming Dr. Q. and from Friday evening to Sunday night I read, underlined, highlighted, cried, and was amazed by the obstacles and challenges that Dr. Quinones endured in Mexico and the United States to become a highly regarded and respected Neurosurgeon and mentor."
— Business News

"I read, underlined, highlighted, cried, and was amazed by the obstacles and challenges that Dr. Quinones endured in Mexico and the United States to become a highly regarded and respected Neurosurgeon and mentor."
— Bilingual Weekly