A Clash of Kings: A Song of Ice and Fire: Book Two (Mass Market)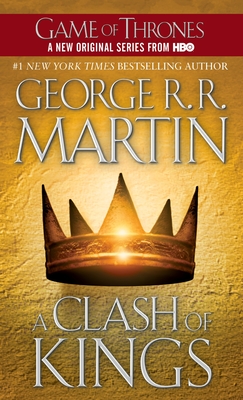 $9.99

Usually Ships in 1-5 Days
Other Books in Series
This is book number 2 in the A Song of Ice and Fire series.
Description
---
THE BOOK BEHIND THE SECOND SEASON OF GAME OF THRONES, AN ORIGINAL SERIES NOW ON HBO.

In this eagerly awaited sequel to A Game of Thrones, George R. R. Martin has created a work of unsurpassed vision, power, and imagination. A Clash of Kings transports us to a world of revelry and revenge, wizardry and warfare unlike any you have ever experienced.

A CLASH OF KINGS

A comet the color of blood and flame cuts across the sky. And from the ancient citadel of Dragonstone to the forbidding shores of Winterfell, chaos reigns. Six factions struggle for control of a divided land and the Iron Throne of the Seven Kingdoms, preparing to stake their claims through tempest, turmoil, and war. It is a tale in which brother plots against brother and the dead rise to walk in the night. Here a princess masquerades as an orphan boy; a knight of the mind prepares a poison for a treacherous sorceress; and wild men descend from the Mountains of the Moon to ravage the countryside. Against a backdrop of incest and fratricide, alchemy and murder, victory may go to the men and women possessed of the coldest steel...and the coldest hearts. For when kings clash, the whole land trembles.
About the Author
---
George R. R. Martin is the #1 New York Times bestselling author of many novels, including the acclaimed series A Song of Ice and Fire—A Game of Thrones, A Clash of Kings, A Storm of Swords, A Feast for Crows, and A Dance with Dragons—as well as Tuf Voyaging, Fevre Dream, The Armageddon Rag, Dying of the Light, Windhaven (with Lisa Tuttle), and Dreamsongs Volumes I and II. He is also the creator of The Lands of Ice and Fire, a collection of maps from A Song of Ice and Fire featuring original artwork from illustrator and cartographer Jonathan Roberts, and The World of Ice & Fire (with Elio M. García, Jr., and Linda Antonsson). As a writer-producer, Martin has worked on The Twilight Zone, Beauty and the Beast, and various feature films and pilots that were never made. He lives with the lovely Parris in Santa Fe, New Mexico.