Staying in the Game: The Playbook for Beating Workplace Sexual Harassment (Paperback)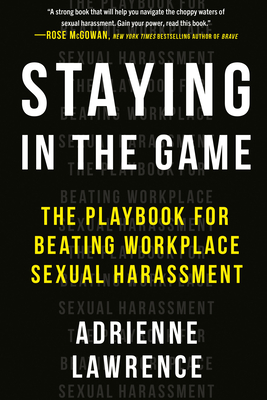 $16.00
Currently unavailable from publisher and distributor
Description
---
A practical guide to shutting down workplace sexual harassment so it doesn't derail your career or your life, from the first on-air personality to sue ESPN for sexual harassment.

Even in the #MeToo era, studies show that women in the workforce continue to harbor misconceptions about sexual harassment and are unprepared to respond when it happens. Lawyer and former ESPN anchor Adrienne Lawrence has learned to advocate for herself and other women. In this book, she offers much-needed insight on topics such as:

Identifying the five types of harassers and the five types of coworkers who enable them
Researching company culture and history to identify sexual harassment hotbeds
Properly documenting inappropriate behavior
Preparing for retaliation and mental health hurdles such as anxiety and depression
Managing public exposure and figuring out when to leverage the power of the media and/or lawyer up
This essential guide helps women navigate the complicated realities of sexual harassment and teaches them how to be their own best advocates in toxic work environments.
About the Author
---
Adrienne Lawrence is an attorney and television host who has appeared across TV and digital platforms to discuss legal issues related to current events. She was a litigator for eight years before entering broadcast journalism. A former anchor and legal analyst at ESPN, she became the first on-air personality to sue ESPN for sexual harassment.
Praise For…
---
"A highly readable and informative introduction to managing workplace harassment."
—Kirkus

"Lawrence's book is a must-read for any woman in any workplace."
—Bitch Media

"A strong book that will help you navigate the choppy waters of sexual harassment. Gain your power, read this book."
—Rose McGowan, New York Times bestselling author of Brave

"I wish so much I'd had this witty, pulls-no-punches book at the start of my career. Adrienne Lawrence offers an unvarnished look at what sexual harassment really is, how it plays out in the workplace, and the most practical strategies for dealing with it. It's savvy, timely, evidence-based advice that could have tangible benefits for your paycheck, title, and overall well-being. Every woman who works will find useful insights in this book. Staying in the Game is a generous serving of much needed workplace realness, delivered in the knowing voice of a trusted friend." 
—Shannon Coulter, president of The Grab Your Wallet Alliance

"It is so sad that this book has to exist, but thank God that it does. Staying in the Game reached me on a deeper level, being a woman of color, conditioned to believe that my rights are secondary, particularly when it comes to matters of sexual harassment and misconduct. Not only should you read this book, you should carry it around—it will keep you in tune."
—Aida Rodriguez, comedian and regular contributor for The Young Turks

"A no-nonsense guide to thriving in the workplace, even in the face of the power structures that play against us. Readers will come away with practical tools for navigating today's workplace and with a deeper understanding of the history and research on workplace sexual harassment, thanks to Adrienne Lawrence's accessible writing, advocacy, wit, and all-around badassery. We're lucky to have her on our team!"
—Amy Blackstone, PhD, professor of sociology and workplace sexual harassment consultant

"An essential resource that's short on platitudes and long on real talk. When you know going to HR isn't safe but you also know your friends are just as uninformed about how to handle workplace abuse, Staying in the Game is the definitive map to help you navigate and thrive despite the inevitable harassment that every modern woman will eventually witness or experience."
—Nathalie Molina Niño, author of Leapfrog: The New Revolution for Women Entrepreneurs

"Navigating workplace sexual harassment can be incredibly overwhelming and isolating. With Staying in the Game, taking action against sexual harassment is now much less intimidating. In this book, Adrienne Lawrence validates our experiences, stands in solidarity with us, and equips us with the practical knowledge needed to make the best decisions for ourselves throughout each step of the process. She is the witty and empowering coach we all need when navigating sexual harassment in the workplace. Whether you were the target of harassment or want to support others who have been—this is a must-read."
—Tammy Cho, CEO and Cofounder of BetterBrave

"Every woman in the workplace should read this book. Lawrence has crafted a playbook that lays out in clear, easily accessible detail, what to do if you are subject to—or witness—sexual harassment. Staying in the Game is truly a book of our time."
—Kate McCarthy, Director of Programs for the Women's Media Center