Meet Me Under the Mistletoe (Paperback)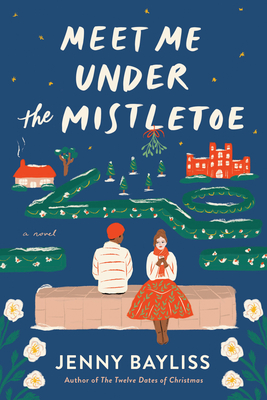 $17.00

Usually Ships in 1-5 Days
Description
---
A city bookshop owner heads to the English countryside for a holiday reunion—only to face her childhood enemy.

Elinor Noel—Nory for short—is quite content running her secondhand bookshop in London. Forever torn between her working-class upbringing and her classmates' extravagant lifestyles at the posh private school she attended on scholarship, Nory has finally figured out how to keep both at equal distance. So when two of her oldest friends invite their whole gang to spend the time leading up to their wedding together at the castle near their old school, Nory must prepare herself for an emotionally complicated few days.

The reunion brings back fond memories, but also requires Nory to dodge an ill-advised former fling. When she falls quite literally into the arms of Isaac, the castle's head gardener, who has nothing but contempt for the "snobby prep school kids," the attraction between them is undeniable. And as Nory spends more time with Isaac during the wedding festivities, she finds herself falling hard for the boy she used to consider an enemy. Nory and Isaac explore their common ground, but pressures mount on all sides, and Nory must decide what kind of life she wants to live and what sort of love is worth the risk . . .
About the Author
---
A former professional cake baker, Jenny Bayliss lives in a small seaside town in the UK with her husband, their children having left home for big adventures. She is also the author of The Twelve Dates of Christmas and A Season for Second Chances.
Praise For…
---
One of Reader's Digest's 30 Most-Anticipated Books of 2022

"A story of past flings, friendships, and new love….Reading this with a mug of hot cocoa sparked so much joy!" —FIRST

"Filled with holiday bliss and the spirit of new starts, Nory and Isaac's second chance is the perfect holiday romance." —PopSugar

"Meet Me Under the Mistletoe captures the same small-town charm and holiday cheer found in Bayliss's debut novel, The Twelve Dates of Christmas, while tackling themes of class relations, self-acceptance, family loyalty, and the value of old friendships and new love." —Apartment Therapy

"All the hubbub of wedding preparation in the background offers some good laughs, and Nory's diverse friend group is sure to win over readers. Bayliss's fans will be pleased." —Publishers Weekly
 
"Old friends, new love, self-acceptance, and family loyalty are just some of the themes Bayliss deftly touches on here." —Reader's Digest

"A fantastic holiday romance that skillfully explores the many entanglements of our hearts." —Jean Meltzer, author of The Matzah Ball and Mr. Perfect on Paper