The Wake-Up Call (Paperback)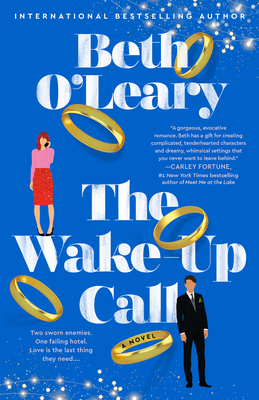 $17.00

Usually Ships in 1-5 Days
Description
---
Two hotel receptionists—and arch-rivals—find a collection of old wedding rings and compete to return them to their owners, discovering their own love story along the way.

It's the busiest season of the year, and Forest Manor Hotel is quite literally falling apart. So when Izzy and Lucas are given the same shift on the hotel's front desk, they have no choice but to put their differences aside and see it through.

The hotel won't stay afloat beyond Christmas without some sort of miracle. But when Izzy returns a guest's lost wedding ring, the reward convinces management that this might be the way to fix everything. With four rings still sitting in the lost & found, the race is on for Izzy and Lucas to save their beloved hotel—and their jobs.

As their bitter rivalry turns into something much more complicated, Izzy and Lucas begin to wonder if there's more at stake here than the hotel's future. Can the two of them make it through the season with their hearts intact?
About the Author
---
Beth O'Leary is a Sunday Times bestselling author whose novels have been translated into more than thirty languages. Her debut, The Flatshare, sold over half a million copies and changed her life completely. Her second novel, The Switch, has been optioned for film by Amblin Partners, Steven Spielberg's production company. Beth writes her books in the English countryside with a very badly behaved golden retriever for company. If she's not at her desk, you'll usually find her curled up somewhere with a book, a cup of tea, and several woolly jumpers (whatever the weather).
Praise For…
---
"Beth O'Leary can do no wrong! I've loved each and every one of her books, and The Wake-Up Call is yet another gorgeous, evocative romance. Beth has a gift for creating complicated, tender-hearted characters and dreamy, whimsical settings that you never want to leave behind. Put this on your TBR immediately."―Carley Fortune, New York Times bestselling author of Meet Me at the Lake

"This delicious rom-com will please even the most jaded readers."―Good Morning America

"This is Beth O'Leary at the height of her powers. Hypnotically good, fresh, fun and moving, with one-liners that made my sides hurt, characters I want to take out to dinner, and one of the best endings I've read in some time. This is not just a great rom com, this is a Beth O'Leary rom com, and in my opinion there is no better writer out there."―Gillian McAllister, New York Times bestselling author of Wrong Place Wrong Time

"If you're looking for a delightfully steamy, cozy, romantic, and chortle-out-loud read, grab The Wake-Up Call asap because Beth O'Leary gives us everything in this unputdownable rom com!"―Evie Dunmore, USA Today bestselling author of The Gentleman's Gambit

"O'Leary returns with a humorous and poignant rom-com set at a boutique hotel in southern England…Add in some charming supporting characters and stakes that feel high but believable, and the result is exactly the cute contemporary romp that O'Leary's fans have come to expect."―Publishers Weekly

"Beth O'Leary never misses. The Wake-Up Call bursts with Beth's signature heart, wit, and charm, topped with sizzling enemies to lovers banter. Brimming with palpable warmth and depth of character, this one is for the hopeless romantics in all of us."—Amy Lea, internationally bestselling author of Exes and O's

"An utterly delicious read. Amazing chemistry, characters to fall in love with, and all that Beth O'Leary magic. Irresistible."―Louise O'Neill, author of Idol

"Playful, warm, uplifting, and so very satisfying. O'Leary has a gift for taking the reader to a place so full of joy, we never want to leave. Just lovely."―Caroline Hulse, author of All the Fun of the Fair

"I've just finished reading The Wake-Up Call―oh I loved it! I'm a complete sucker for an enemies to lovers trope and this one had me gripped from start to finish. It's packed full of warmth and chemistry and I couldn't put it down!"―Paige Toon, author of Only Love Can Hurt Like This

"Oh my goodness, I have not enjoyed a book like The Wake-Up Call in a long time! I could not stop reading, and when I wasn't reading it, I couldn't stop thinking about it! It was like having a crush!  Equal parts heart-warming, touching, sharp, and sexy, Beth O'Leary just gets better and better."―Lia Louis, author of The Key to My Heart

"The Wake-Up Call is absolute classic Beth O'Leary, a magical combination of beautiful, heartwarming love story with simmering sexual tension that keeps you turning the pages long after your hot chocolate has gone cold. The perfect book to snuggle up with this winter."―Lindsey Kelk, bestselling author of The Christmas Wish

"With a delicious cast of unforgettable characters and sparky banter that will have you in stitches, The Wake-Up Call is rom-com perfection. Both funny and moving, believe me once you've checked into The Forest Manor Hotel you won't want to leave!"―Mike Gayle, international bestselling author of A Song of Me and You

"Witty, clever and full of heart―Beth O'Leary has done it again with The Wake-Up Call. I adored this cast of characters and had so much fun with them. This is escapist fiction executed perfectly, I loved it."―Laura Kay, author of Wild Things

"A gorgeous read that expertly and deftly takes us away from our everyday lives and plunges us into the fun, heartfelt and engrossing world of Beth O'Leary's talent. She is a master of her craft."―Salma El-Wardany, author of These Impossible Things

"The Wake-up Call is utter perfection: it's everything I love about romance books in a seductive, funny, big-hearted and masterfully told story."―Cressida McLaughlin, author of The Staycation

"A fiery and fabulous romance, the sparks fly off the page!"―Milly Johnson, award-winning author of Together, Again

"O'Leary's is full of heart, humor, and a sprinkle of holiday magic. While this will easily find a spot on holiday displays, it will also appeal to readers who love enemies-to-lovers storylines with supporting characters who shine."―Library Journal

"Beth O'Leary has become a must-read author, with rom-coms like The Flatshare and The Road Trip at the top of our favorites list. She follows suit with The Wake-Up Call."―Country Living

"O'Leary's novels are fun, funny and sometimes quite sexy… this book is so fun you really don't want it to end."―Minneapolis Star-Tribune