Dragonology: The Complete Book of Dragons (Ologies) (Hardcover)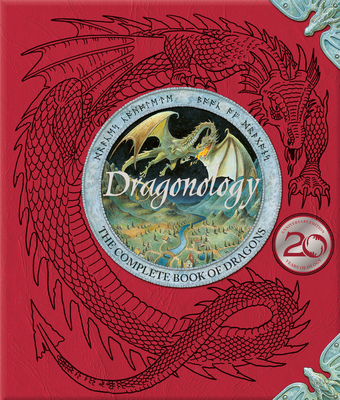 $29.99

Usually Ships in 1-5 Days
Description
---
A New York Times bestseller!

For true believers only, a lavishly illustrated reproduction of a legendary volume by the world's most distinguished dragonologist. Don't let it fall into the wrong hands!

Do you believe in dragons? Now, for the first time, the long-lost research of renowned nineteenth century dragonologist Dr. Ernest Drake is presented in all its eccentric glory, happily bridging the gap between dragon legend and fact. The meticulous Dr. Drake assigns Latin names to various dragon species, ruminates on why dragons are able to speak, speculates on how they could fly, and explains the true purpose of their notorious hoarding habits. Here are just a few of DRAGONOLOGY'S fascinating features:

— Novelty elements throughout, including tactile samples of dragon wings and dragon scales, as well as a packet of dragon dust.
— Booklet of dragon riddles (indispensable to the burgeoning dragonologist)
— Sealed envelope containing a powerful dragon-calling spell
— Embossed faux leather cover with red and silver foil, encrusted with three dragon gems

In his afterword, Dr. Drake reveals that one of the crucial goals of dragonologists is to preserve the magnificent creatures of their study wherever possible - a goal this tongue-in-cheek volume most affectionately achieves. An incomparable gift for secret dragonologists everywhere!
About the Author
---
Dr. Ernest Drake is said to have lived in St. Leonard's Forest, Sussex, England, in the late nineteenth century and to have issued a very limited run — some 100 copies — of Dragonology in 1895. A noted dragonologist and a founding member of the Secret & Ancient Society of Dragonologists in London, Dr. Ernest Drake was determined to bring the subject of dragons under the burgeoning umbrella of the nineteenth-century natural sciences. He had absolutely no doubt that dragons exist, and his notes suggest that he had no little experience of them. Apparently, only one copy of Dragonology ever appeared in public, surfacing in the basement of a secondhand bookstore in London in 1987. The book was accompanied by a letter, dated 1904, addressed to an unnamed apprentice. Dr. Ernest Drake's painstaking work has been faithfully reproduced in this unique volume.

Douglas Carrel, Chief Draughtsman: A native of Scotland, Douglas Carrel was clearly a dragonologist of some standing, and often accompanied Dr. Drake on some of his more fruitful expeditions. In a letter from Constantinople to the editor he says, "It is with considerable sense of honour, and no small amount of pride, that I lend my hand to the compiling of this most worthy volume . . . Ultimately, I feel that all of us—within this privileged circle in particular—are duty-bound to preserve and perpetuate the love and lore of dragons."

Helen Ward, Scientific Artist: Helen Ward trained as an illustrator at Brighton School of Art, although it is not known exactly when she came into contact with Dr. Drake. However a quote from her autobiography makes some things clear: "As a child I dreamed of dragons. When age allowed, I traveled. Unfortunately, several expeditions to Europe and one to that part of Russia known as Finland specifically to capture the likeness of a live dragon have ended in failure. The creatures seemed deliberately elusive . . .. With the help of descriptions, notes, and detailed drawings made by others I have managed to illustrate these majestic creatures to the satisfaction of those more fortunate and better-informed dragonologists." 

Wayne Anderson, Pictorial Artist: Interested in cryptozoology from an early age, Wayne Anderson first came into contact with S.A.S.D. at one of their meetings in Wyvern Way in London. It was after a couple of trips with Drake—to the Alps in 1878 and to Scotland in 1880—that Wayne realized his early dragon drawings were, in fact, more life-like than he could have realised. Like most of the other collaborators on Dragonology, he has contributed to many other books for children. He enjoyed a fruitful collaboration with Helen Ward that resulted in books such as The Tin Forest and The Dragon Machine.

Nghiem Ta, Artistic Direction: Dr. Drake met Nghiem Ta in the Fukien (now Fujian) Province of China where she was working in her grandfather's bookshop. Their shared interest in dragons became evident when he showed her a copy of the fabled Dragon Sutra of Hong Wei, which the monks of that monastery made for him as a gift. He asked Miss Ta if such a revered object could be bound into a book and was so impressed with her work that he later invited her to London to oversee the creation of Dragonology.
Praise For…
---
It is simply irresistible. . . . This book is a feast for the eyes and will draw teens like a magnet.
—Voice of Youth Advocates

This book will be hugely attractive to children.
—School Library Journal

In addition to the clever text and persuasive illustrations by Helen Ward, Douglas Carrel and Wayne Anderson, the interactive book includes an insert on dragon script, a mini-book of dragon riddles and a glass dragon eye bound into the back cover.
—Publishers Weekly

Dragonologists, both amateur and academic, will hail Dr. Drake's lavishly illustrated, 'rediscovered' guide.
—Booklist

A handsome, dryly tongue-in-cheek volume. . . . All in all, a delightful treatment for readers fascinated by dragons.
—Booklist

What single gift once engrossed my three boys so much that they stopped opening Christmas presents — I swear — for a full 15 minutes? A gorgeous compendium called DR. ERNEST DRAKE'S DRAGONOLOGY: THE COMPLETE BOOK OF DRAGONS.
—FamilyFun

A fictional scientist's exhaustive reference guide to the fantastic reptiles. Who knew that dragon dung is a skin tonic?
—People Magazine

DRAGONOLOGY: THE COMPLETE BOOK OF DRAGONS is the perfect first volume for the budding Dragonologist. . . . This book is a terrific way to engage any young reader while encouraging their interests in the colorful and captivating world of fantasy.
—Boston Herald

This one is a real bang for the buck and will keep any dragon-fascinated kid enthralled for days.
—Philadelphia Inquirer

As lush a book as any this season . . . this is the perfect gift . . .
—Tampa Tribune Times

A beautifully illustrated, coffee-table-sized book that will provide hours of pleasure.
—Seattle Times

Packed with ornate borders, exquisite watercolor pictures and detailed line drawings, this oversized treasure is made for children but is bound to please even the oldest dragon lover.
—Bristol Herald Courier

Do you believe in dragons? After reading [Dragonology] you probably will!
—Newsday

This thoroughly engaging book . . . offers readers maps, classifications, explanations of dragon biology and physiology, useful spells and charm, a detailed list of the requirements of a dragonological laboratory, and more.
—Book Links

Featured/recommended
—Napa Valley Register.com