The Lost Metal: A Mistborn Novel (The Mistborn Saga #7) (Hardcover)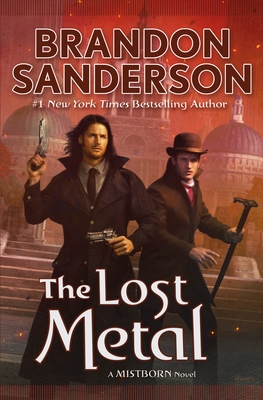 $29.99

Usually Ships in 1-5 Days
Other Books in Series
This is book number 7 in the The Mistborn Saga series.
Description
---
Return to #1 New York Times bestseller Brandon Sanderson's Mistborn world of Scadrial as its second era, which began with The Alloy of Law, comes to its earth-shattering conclusion in The Lost Metal.

For years, frontier lawman turned big-city senator Waxillium Ladrian has hunted the shadowy organization the Set—with his late uncle and his sister among their leaders—since they started kidnapping people with the power of Allomancy in their bloodlines. When Detective Marasi Colms and her partner Wayne find stockpiled weapons bound for the Outer City of Bilming, this opens a new lead. Conflict between Elendel and the Outer Cities only favors the Set, and their tendrils now reach to the Elendel Senate—whose corruption Wax and Steris have sought to expose—and Bilming is even more entangled.

After Wax discovers a new type of explosive that can unleash unprecedented destruction and realizes that the Set must already have it, an immortal kandra serving Scadrial's god, Harmony, reveals that Bilming has fallen under the influence of another god: Trell, worshipped by the Set. And Trell isn't the only factor at play from the larger Cosmere—Marasi is recruited by offworlders with strange abilities who claim their goal is to protect Scadrial...at any cost.

Wax must choose whether to set aside his rocky relationship with God and once again become the Sword that Harmony has groomed him to be. If no one steps forward to be the hero Scadrial needs, the planet and its millions of people will come to a sudden and calamitous ruin.

Other Tor books by Brandon Sanderson

The Cosmere

The Stormlight Archive
The Way of Kings
Words of Radiance
Edgedancer (Novella)
Oathbringer
Dawnshard (Novella)
Rhythm of War

The Mistborn trilogy
Mistborn: The Final Empire
The Well of Ascension
The Hero of Ages

Mistborn: The Wax and Wayne series
Alloy of Law
Shadows of Self
Bands of Mourning
The Lost Metal

Collection
Arcanum Unbounded

Other Cosmere novels
Elantris
Warbreaker

The Alcatraz vs. the Evil Librarians series
Alcatraz vs. the Evil Librarians
The Scrivener's Bones
The Knights of Crystallia
The Shattered Lens
The Dark Talent

The Rithmatist series
The Rithmatist

Other books by Brandon Sanderson

The Reckoners
Steelheart
Firefight
Calamity
About the Author
---
Brandon Sanderson grew up in Lincoln, Nebraska. He lives in Utah with his wife and children and teaches creative writing at Brigham Young University. He is the author of such bestsellers as the Mistborn® trilogy and its sequels, The Alloy of Law, Shadows of Self, and The Bands of Mourning; the Stormlight Archive novels The Way of Kings and Words of Radiance; and other novels, including The Rithmatist, Steelheart, and Skyward. In 2013, he won a Hugo Award for Best Novella for The Emperor's Soul, set in the world of his acclaimed first novel, Elantris. Additionally, he was chosen to complete Robert Jordan's Wheel of Time® sequence.
Praise For…
---
Praise for Brandon Sanderson and the Mistborn Saga

"A breathtaking saga that promises twists every step of the way… succeeds in celebrating what makes fantasy magical while simultaneously delivering a fresh adventure that's endlessly entertaining." —Paste Magazine, "The 50 Best Fantasy Books of the 21st Century (So Far)," on Mistborn

"Sanderson is an evil genius. There is simply no other way to describe what he's managed to pull off in this transcendent final volume of his Mistborn trilogy." —RT Book Reviews, Gold Medal, Top Pick, on The Hero of Ages

"Rollicking adventure … Part Sherlock Holmes, part X-Men, this exciting stand-alone adventure is full of close shaves, shootouts, and witty banter." —Publishers Weekly on The Alloy of Law

"A fresh view of how a world can grow, building new dimensions into the best of the old. Sanderson continues to show that he is one of the best authors in the genre." —Library Journal, starred review, on The Alloy of Law

"An engaging and fun romp of a read. The characters really shine in this book." —RT Book Reviews on The Alloy of Law

"Delivers more excitement, adventure, and magic in a newly industrialized world that is as richly realized as any of Sanderson's creations." —Buzzfeed on Shadows of Self

"Witty, memorable characters; a fast-moving, plate-spinning plot; and a deepening of one of the most creative magic systems ever conceived: it's everything a Sanderson fan could ask for." —B&N Sci-Fi and Fantasy Blog on The Bands of Mourning