The Latinos of Asia: How Filipino Americans Break the Rules of Race (Paperback)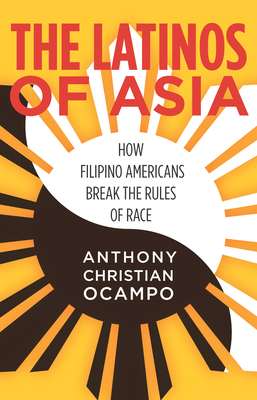 $22.95

Usually Ships in 1-5 Days
Description
---
Is race only about the color of your skin? In The Latinos of Asia, Anthony Christian Ocampo shows that what "color" you are depends largely on your social context. Filipino Americans, for example, helped establish the Asian American movement and are classified by the U.S. Census as Asian. But the legacy of Spanish colonialism in the Philippines means that they share many cultural characteristics with Latinos, such as last names, religion, and language. Thus, Filipinos' "color"—their sense of connection with other racial groups—changes depending on their social context.

The Filipino story demonstrates how immigration is changing the way people negotiate race, particularly in cities like Los Angeles where Latinos and Asians now constitute a collective majority. Amplifying their voices, Ocampo illustrates how second-generation Filipino Americans' racial identities change depending on the communities they grow up in, the schools they attend, and the people they befriend. Ultimately, The Latinos of Asia offers a window into both the racial consciousness of everyday people and the changing racial landscape of American society.


About the Author
---
Anthony Christian Ocampo is Assistant Professor of Sociology at California State Polytechnic University, Pomona and a Ford Foundation Postdoctoral Fellow at the School of Public Policy at University of California-Riverside.
Praise For…
---
"This is a groundbreaking book about one of the least understood groups of people: Filipinos. As a people, we're a lot American, we're definitely Asian, and we're undeniably Latino. The Latinos of Asia is essential reading not only for the Filipino diaspora but for anyone who cares about the mysteries of racial identity."—Jose Antonio Vargas, Pulitzer Prize-winning journalist and founder of Define American and #EmergingUS

"Analyzing Filipino American experiences of 'looking Asian but having a Spanish last name' or 'looking Mexican but identifying as Asian,' Ocampo shows how the children of Filipino immigrants constantly challenge the prevailing racial mapping rules in America. The Latinos of Asia is groundbreaking, offering an ingenious perspective on racial dynamics and formation."—Min Zhou, Tan Lark Sye Chair Professor of Sociology, Nanyang Technological University, and co-Author of The Asian American Achievement Paradox

"Are Filipino Americans Asian, Latino, or something else entirely? In this provocative book, Anthony Ocampo deftly combines survey analysis, in-depth interviews, and personal narrative to show that the answer is not a simple one. It depends critically on context and has important implications for matters such as life chances, life choices, and race relations in a rapidly diversifying nation."—Karthick Ramakrishnan, Professor and Associate Dean of Public Policy, University of California Riverside

"Engaging and timely, The Latinos of Asia shatters static, homogenizing, and binary categorizations of Asian Americans and Latinas/os. Presenting powerful testimonials by Filipinos from two Los Angeles communities and centering dynamics in schools and neighborhoods, this must-read book complicates understandings of race, identity, and Los Angeles."—Gilda L. Ochoa, Author of Academic Profiling: Latinos, Asian Americans and the Achievement Gap

"The Latinos of Asia is groundbreaking. Ocampo examines racial identities among Filipino Americans not just in relation to whites, but in relation to other minorities. Through candid and eloquent responses from Filipino American young adults, and engaging links to scholarly discussions, Ocampo tracks the fluidity of race and argues that place matters in how people come to think about themselves."—Robyn Rodriguez, UC Davis
"The Latinos of Asia presents an innovative analysis of Filipinos as an 'in-between' people straddling the stigmatized immigrant groups from Latin America and model minority newcomer populations from Asia. This book convincingly demonstrates that race is not a fixed characteristic of individuals and groups. Anthony Ocampo's work will capture the imagination of students of immigration, race, and ethnicity alike."—Rubén Hernández-León, Associate Professor of Sociology and Director of the UCLA Center for Mexican Studies
"In this innovative book, Anthony Ocampo brings to light the ambiguities and ambivalences of a racial identity that is always Filipina/o but also contingently Asian, Latina/o, and even Pacific Islander. Brimming with unexpected findings and insightful explanations, The Latinos of Asia underscores the intrinsic instability and enduring power of race."—Moon-Kie Jung, author of Beneath the Surface of White Supremacy
"Anthony Ocampo shows that understanding race in today's America means understanding a group that toes different racial lines: Filipino Americans. Through rich interviews and accessible prose, Ocampo explains how Filipino Americans straddle Latino and Asian racial categories, and what that straddling says about race in the United States today. This is the definitive account of the contemporary Filipino American experience."—Tomás R. Jiménez, Stanford University; author of Replenished Ethnicity: Mexican Americans Immigration, and Identity
"Anthony Ocampo's fascinating study illustrates how Filipinos do not fit neatly into American racial categories. His highly accessible narrative carries the reader through different social and institutional contexts that draw Filipinos back and forth over panethnic lines, and challenge our notion of what panethnicity means in America."—Wendy Roth, Associate Professor of Sociology, The University of British Columbia
Coverage from NPR