The First Blade of Sweetgrass (Hardcover)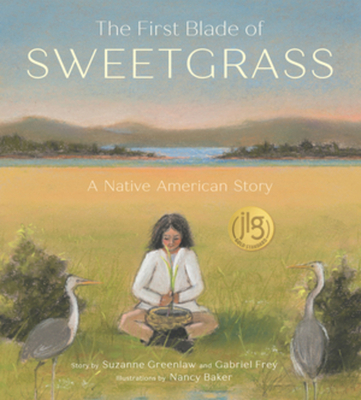 $18.95

Usually Ships in 1-5 Days
Description
---
Selected for the Notable Social Studies 2022 List
Named to ALA Notable Children's Books 2022
In this Own Voices Native American picture book story, a modern Wabanaki girl is excited to accompany her grandmother for the first time to harvest sweetgrass for basket making.
Musquon must overcome her impatience while learning to distinguish sweetgrass from other salt marsh grasses, but slowly the spirit and peace of her surroundings speak to her, and she gathers sweetgrass as her ancestors have done for centuries, leaving the first blade she sees to grow for future generations. This sweet, authentic story from a Maliseet mother and her Passamaquoddy husband includes backmatter about traditional basket making and a Wabanaki glossary.
About the Author
---
Suzanne Greenlaw (Orono, ME) is Maliseet and a citizen of the Houlton Band of Maliseet Indians. A PhD candidate in the School of Forest Resources at the University of Maine, she works to restore Wabanaki stewardship practices across various land tenure systems throughout Maine.

Gabriel Frey (Orono, ME) is Passamaquoddy and a citizen of Passamaquoddy at Sipayik. He is an awarded-winning basket maker, artist, and cultural knowledge keeper. His mother and Suzanne and Gabriel's two daughters, Musqon and Alamossit, helped inspire The First Blade of Sweetgrass.

Nancy Baker (Thomaston, ME) is a Maine artist, illustrator, and muralist whose landscapes, still lifes, and figurative works in oils and pastels are represented by Mars Hall Gallery in Tenants Harbor, Maine. While visiting the sweetgrass meadows of Mount Desert Island and Acadia National Park with Suzanne and Gabriel, authors of The First Blade of Sweetgrass, Nancy learned the ecology and cultural importance of sweetgrass and witnessed the majesty of the landscape in which it grows, qualities that she has worked to convey in her illustrations.
Praise For…
---
PW Starred Review - Emphasizing the importance of conservation and tradition in Native culture, married authors Greenlaw (who is Maliseet) and Frey (who is Passamaquoddy) expertly craft a sweet story that centers a Wabanaki grandmother and granddaughter...Baker's earth-toned illustrations feature soft edges, subtle colors, and braided sweetgrass borders, while lyrical text renders experience in evocative sensory prose ("the thin whine of mosquitos grew distant"). The result is a deeply personal, thoughtfully detailed account.
— PW

While hunting for summer's
sweetgrass, a young Wabanaki girl learns patience from her grandmother... Greenlaw (Houlton Band
of Maliseet) and Frey (Passamaquoddy), a basket maker himself, pen a tender ode
to a treasured tradition. Muted illustrations rendered in pastels on brown
paper evoke the coastal Maine landscape and fit nicely with the tranquil pace
of this lyrical tale.

Quiet
text shows how careful observation and the respect of nature can provide
unexpected gifts.
— Kirkus

The First Blade of Sweetgrass is simply heartwarming. The simple tale of a young girl going out with her grandmother to learn the traditional art of harvesting sweetgrass from the marshes for basketmaking, it melds the enchantment of the natural world with deep principles such as tradition, ecological responsibility, mindfulness, and cultural legacy.Illustrated in the soft earth tones of the sweetgrass meadows of Maine's Mount Desert Island and Acadia National Park, this book is grounded in the Indigenous traditions of the region. The two authors are active citizens within the Wabanaki Confederacy. Suzanne Greenlaw works to restore Wabanaki ecological stewardship practices throughout Maine, while Gabriel Frey is an award-winning Passamaquoddy basket maker, artist, and cultural knowledge keeper. Together, they taught illustrator Nancy Baker of the ecology and cultural importance of sweetgrass.Little Musquon's grandmother teaches her two lessons to begin harvesting sweetgrass from the marshes:Do not pick the first blade, so there will never be a last blade for future generations. Sweetgrass has a shiny green tassel and blades and a purple stem, and it gives itself to you. If it does not give itself, it is not sweetgrass. But it is only when Musquon learns to slow down, pay attention, and connect with the ancestors who picked sweetgrass before her that she is able to follow in their footsteps.For Indigenous children, the book offers a deep affirmation of tradition and connection to ancestry. For non-Native children, the book offers a rare and sweet experience of the land and its gifts from a more mindful, respectful, relational perspective. It is an invaluable gift in these days of virtual reality and nature deficit disorder. Heartily recommended!

— Phila Hoopes - Friends Journal