Defining Sexual Misconduct: Power, Media, and #Metoo (Paperback)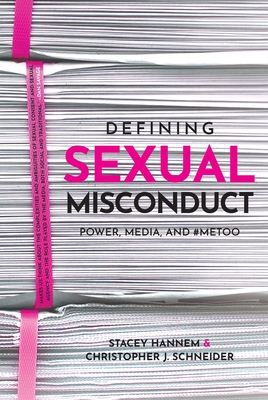 $29.95

Usually Ships in 1-5 Days
Description
---
In 2015, the New York Times ran just a single headline with the term "sexual misconduct." Three years later, it ran dozens of such headlines, averaging more than one per week, and expanded coverage across other media organizations followed. This shift in coverage is reflective of significant changes in public discourse about sexual harm helping to hold some perpetrators accountable for their behaviour and paved the path for #MeToo and related movements against sexual abuse and harm to receive national and global attention.
In
Defining Sexual Misconduct,
Stacey Hannem and Christopher Schneider trace contemporary shifts in power in relation to the increased recognition and censure of sexual misconduct and the ways in which the shifting social landscape is communicated in the coverage of sexual misconduct in media. Hannem and Schneider also examine the contemporary dynamics of public accusations and their relationship to more formal criminal justice processes, as well as the implications for the stigmatization of alleged abusers and public response to alleged victims. Since behaviours categorized as sexual misconduct may not all be defined as crimes, or punishable through legal means, social censure and cancel culture often stand as proxy forms of punishment, and the authors reflect on what the pursuit of justice might look like in this extra-legal context.
About the Author
---
Stacey Hannem is a sociologist and Professor in the Department of Criminology at Wilfrid Laurier University. Her research focuses on sex work, sexual violence, and the intersections of criminal law and justice policy with stigma, marginalization, and gender. She is co-editor of Stigma Revisited: Implications of the Mark (with Bruckert, University of Ottawa Press, 2012). Christopher J. Schneider is professor of sociology at Brandon University. His research focuses on how developments in media and technology contribute to changes in social interaction and social control. He is the author of Policing and Social Media: Social Control in an Era of New Media (Lexington Books, 2016).