Shotgun Lovesongs: A Novel (Paperback)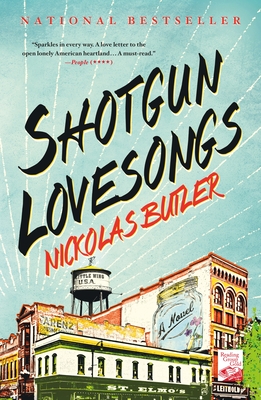 Description
---
NATIONAL BESTSELLER

"Impressively original." —The New York Times

"Sparkles in every way. A love letter to the open lonely American heartland…A must-read." —People

"The kind of book that restores your faith in humanity." —Toronto Star

Welcome to Little Wing.

It's a place like hundreds of others, but for four boyhood friends—all born and raised in this small Wisconsin town—it is home. One of them never left, still working the family farm, but the others felt the need to move on. One trades commodities, another took to the rodeo circuit. One of them hit it big as a rock star. And then there's Beth, a woman who has meant something special in each of their lives.

When all of them are brought together for a wedding, Little Wing seems even smaller than before. Lifelong bonds remain strong, but there are stresses—among the friends, between husbands and wives. There will be heartbreak, but there will also be hope, healing, even heroism as these memorable people learn the true meaning of friendship and love.

Nickolas Butler's Shotgun Lovesongs is that rare work of fiction that evokes a specific time and place, yet movingly describes the universal human condition. It is, in short, a truly remarkable book—a novel that, once read, will never be forgotten.
About the Author
---
NICKOLAS BUTLER was born in Allentown, Pennsylvania, and raised in Eau Claire, Wisconsin.  His writings have appeared in: Narrative Magazine, Ploughshares, The Kenyon Review Online, The Progressive, The Christian Science Monitor, and elsewhere.  A graduate of the University of Wisconsin and the Iowa Writer's Workshop, he currently lives in Wisconsin with his wife and their two children. Shotgun Lovesongs is his first novel.
Praise For…
---
"Shotgun Lovesongs is about a hometown in Wisconsin and the close band of friends who will always feel its magnetic pull. … The most lyrical parts of this big-hearted book are about how all the characters, including the star, are almost physically drawn to the town and one another. … Impressively original." —The New York Times

"Sparkles in every way. A love letter to the open lonely American heartland…A must-read." —People

"We all have them, right? Those songs that indelibly mark the milestones in our lives? Songs that stir up our deepest feelings and remind us of who we are. … Only the best, most emotionally resonant novels work in the same way. Nickolas Butler's Shotgun Lovesongs is one of those novels." —Minneapolis Star Tribune

"Totally smitten. That was me, within four pages of the beginning of Shotgun Lovesongs. … This is one of those books you step into, but never want to leave." —Reedsburg Times-Press

"The kind of book that restores your faith in humanity." —Toronto Star

"A dreamy novel that leaves readers with a lasting impression about friendship and its purpose -- to teach, inspire, and, most of all, fill our hearts with love." —Wilkes Barre Times-Leader

"Nickolas Butler ripped my heart out with rare honesty and good old-fashioned unapologetic love. A book that makes you want to call old friends. A writer who makes you feel more human than you thought possible." —Matthew Quick, New York Times bestselling author of The Silver Linings Playbook

"Nickolas Butler has written a Midwestern masterpiece and has done for the modest splendor of verdant farmlands what Larry McMurtry did for the brutal beauty of small-town Texas." —Ambert Dermont, author of the New York Times bestseller The Starboard Sea

"This is a novel about home, and home is how the book feels." —Josh Weil, award-winning author of The New Valley

"An unswervingly bighearted and compelling novel about an indie rocker made good and his best friends back home in Wisconsin...a soaring, meditative chorus of voices. And it's absolutely beautiful." —Dean Bakopoulos, author of the New York Times Notable Book Please Don't Come Back from the Moon

"You will be moved to laughter and tears, plugged in to a melody that brilliantly shares the story of all our lives." —Benjamin Percy, Pushcart Prize–winning author of Red Moon

"A beautifully written, heartfelt novel about young men in the Midwest grappling with the slipperiest bits of life. Read Shotgun Lovesongs with caution--these guys will stay with you for a while." —Katie Crouch, New York Times bestselling author of Girls in Trucks

"Hooray for this warm, wise, bighearted book." —Emily Jeanne Miller, author of Brand New Human Being

"What a cracking book. Full of heart, full of compassion, full of characters who have you rooting for them from the very first page." —Shelley Harris, author of Jubilee, short-listed for the 2012 Commonwealth Book Prize

"There is also a profound empathy for the characters and the small-town dynamic that the reader will likely share, an appreciation for what 'America was, or could be.'" —Kirkus Reviews (starred review)

"Its power comes from its honesty and the way in which the author sees as much value in life's smaller moments as in its big. … A beautifully written, big-hearted celebration of the enduring power of different kinds of love." —The Independent (UK)

"One of the best books I've read in a long time. I know you'll love it – and you will want to put it in the hands of everyone you know, and say – 'just read it." —OurWindsor

"Nick's literary focus...explorations of the human quest for meaning and value...is a much-needed addition to contemporary fiction in that it explores beyond the conventional repositories of 'self'--job security, family bonds, for example--and reintroduces us to the settled world of nature, where we can explore into both new and ancient meanings of the term." —James Alan McPherson, Pulitzer-Prize winner on Nickolas Butler