Poison for Breakfast (Hardcover)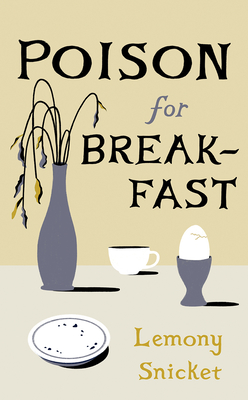 $17.95

Usually Ships in 1-5 Days
Description
---
Washington Post Bestseller
A new stand-alone adventure—appropriate for all ages—by Lemony Snicket, one of the twenty-first century's most beloved authors.
In the years since this publishing house was founded, we have worked with an array of wondrous authors who have brought illuminating clarity to our bewildering world. Now, instead, we bring you Lemony Snicket.
Over the course of his long and suspicious career, Mr. Snicket has investigated many things, including villainy, treachery, conspiracy, ennui, and various suspicious fires. In this book, he is investigating his own death.
Poison for Breakfast
is a different sort of book than others we have published, and from others you may have read. It is different from other books Mr. Snicket has written. It could be said to be a book of philosophy, something almost no one likes, but it is also a mystery, and many people claim to like those. Certainly Mr. Snicket didn't relish the dreadful task of solving it, but he had no choice. It was put in front of him, right there, on his plate.
About the Author
---
Lemony Snicket is the author of the thirteen volumes in A Series of Unfortunate Events; several picture books, including The Dark and The Bad Mood and the Stick; and the books collectively titled All the Wrong Questions.
Praise For…
---
This little book feels like opening a window to let in air and light.... Filled with curious information and powerful feelings.... Humorous, sad, meditative and rapturous.
— Imogen Russell Williams - The Guardian

Lemony Snicket's Poison for Breakfast will certainly be a hit with his fans because the author's style is quite unique . . . . I enjoy the distinctive structure, odd tidbits, and repetition . . . . settle in for a fun read.

— Ronna Mandel - Goodreads

A charismatic voyage into the topic of bewilderment, with detours reflecting on death. . . Watch out for the surprising conclusion! This just may be [Snicket's] finest hour.
— Jeanne Fredriksen - Booklist

Full of Snicket's trademark clever whimsy... it is the sort of pleasant bewilderment that comes from letting your mind wander down unfamiliar paths... Steadfast fans of Lemony Snicket will surely be pleased with this new entry into his canon.
— Sarah Reid - School Library Journal

We are all bewildered, Snicket says.... Despite this novel being written before COVID-19, this message resonates deeply in our present world. Feeling lost in a constant state. However, Snicket urges us to stay hopeful. For those of you who, like me, grew up reading A Series of Unfortunate Events, this is the perfect book for you.... A wild, philosophical ride.
— Abby Petree - The Young Folks

Fans of Snicket's voice will adore the book.... A love letter to the concept and inherent power of literature.... Full of the classic wordplay, snark, and insight that long-time fans will be hoping for.
— Michael Cook - Geek Vibes Nation

[Snicket] returns with a delightfully quirky philosophical novel... [H]e reminisces about, among other things... the craft of writing... [Visiting] a library... sets the stage for a surprising conclusion. Snicket laces the narrative with his trademark word definitions... This will delight fans of Snicket's singular storytelling.
— Publishers Weekly

Daniel Handler has crafted a perfect gem of a true philosophical treatise hidden in a Snicket mystery. I loved every savory bit of it.
— Jon Scieszka