Every Dead Thing: A Charlie Parker Thriller (Paperback)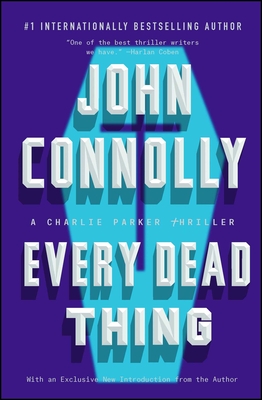 $18.99

Usually Ships in 1-5 Days
Other Books in Series
This is book number 1 in the Charlie Parker series.
Description
---
Tortured and brilliant private detective Charlie Parker stars in this thriller by New York Times bestselling author John Connolly.

Former NYPD detective Charlie "Bird" Parker is on the verge of madness. Tortured by the unsolved slayings of his wife and young daughter, he is a man consumed by guilt, regret, and the desire for revenge. When his former partner asks him to track down a missing girl, Parker finds himself drawn into a world beyond his imagining: a world where thirty-year-old killings remain shrouded in fear and lies, a world where the ghosts of the dead torment the living, a world haunted by the murderer responsible for the deaths in his family—a serial killer who uses the human body to create works of art and takes faces as his prize. But the search awakens buried instincts in Parker: instincts for survival, for compassion, for love, and, ultimately, for killing.

Aided by a beautiful young psychologist and a pair of bickering career criminals, Parker becomes the bait in a trap set in the humid bayous of Louisiana, a trap that threatens the lives of everyone in its reach. Driven by visions of the dead and the voice of an old black psychic who met a terrible end, Parker must seek a final, brutal confrontation with a murderer who has moved beyond all notions of humanity, who has set out to create a hell on earth: the serial killer known only as the Traveling Man.

In the tradition of classic American detective fiction, Every Dead Thing is a tense, richly plotted thriller, filled with memorable characters and gripping action. It is also a profoundly moving novel, concerned with the nature of loyalty, love, and forgiveness. Lyrical and terrifying, it is an ambitious debut, triumphantly realized.
About the Author
---
John Connolly is the author of the #1 internationally bestselling Charlie Parker thrillers series, the supernatural collection Nocturnes, the Samuel Johnson Trilogy for younger readers, and (with Jennifer Ridyard) the Chronicles of the Invaders series. He lives in Dublin, Ireland. For more information, see his website at JohnConnollyBooks.com, or follow him on Twitter @JConnollyBooks.
Praise For…
---
"A genre of one."
— BookReporter.com

"Strongly recommended for plot, characterization, authenticity… horror… and humanity."
— Library Journal (starred review)

"Powerful…Both harrowing and memorable."
— Kirkus Reviews (starred review)

"One of the best thriller writers we have."
— #1 New York Times bestselling author Harlan Coben

"A unique voice."
— New York Times bestselling author Michael Connelly

"Leaves unshakable images lurking on the edge of the reader's consciousness."
— Booklist

A stunner...as riveting and chilling as The Silence of the Lambs.
— San Francisco Examiner

Every Dead Thing is intelligent, deep, and literate, and it is difficult to believe that this is John Connolly's first novel, so confident is the writing...Buy it and be scared.
— The Saturday Times (London)

"Connolly is a master of suggestion, creating mood and suspense with ease, and unflinchingly presents a hard-eyed look at the horrors that can lurk in quiet, rustic settings."
— Publishers Weekly

"Connolly transcends."
— Los Angeles Times