A Lighthouse Christmas (Paperback)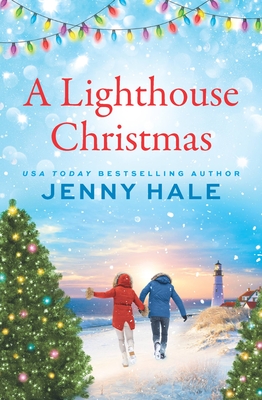 $13.99

Usually Ships in 1-5 Days
Description
---
USA Today bestselling author Jenny Hale is sure to charm with a sweet holiday romance for readers of Jenny Colgan and RaeAnne Thayne.

When her beloved grandmother passes away, Mia Broadhurst returns to the snow-covered seaside village of Winsted Cape, North Carolina, where Grandma Ruth ran the lighthouse overlooking the golden beach. This will be Mia's first Christmas without her, and she can't bear to part with the lighthouse that has been in their family for generations. As she steps into it, childhood memories rush back to her. She can almost hear them playing tag on the steps . . . But her life is back in New York, dedicated to a busy PR firm, and she has no choice but to sell.

With the snow falling, turning the grounds into a winter wonderland, Mia works with real estate agent Will Thacker. As they restore the historical building, she tries not to notice how handsome he is. After all, she's only home for Christmas, and Will's deep blue eyes, as stormy as the Atlantic Ocean, tell her he has his own heartbreak to contend with. Warmed by a crackling fire, Mia packs up Grandma Ruth's belongings with the help of her mother and sister.

But waiting for them is a black-and-white photograph with a faded inscription. The mysterious message is the key to a family secret that has been hidden for decades––one that changes everything. When Mia finds out the truth, will it save the precious lighthouse and show Mia where her heart belongs? Or will it tear her from Winsted Cape––and Will––forever?
About the Author
---
Jenny Hale is a USA Today bestselling author of romantic fiction. Her novels Coming Home for Christmas and Christmas Wishes and Mistletoe Kisses have been adapted for television on the Hallmark Channel. Her stories are chock-full of feel-good romance and overflowing with warm settings, great friends, and family. Grab a cup of coffee, settle in, and enjoy the fun!
Praise For…
---
"Jenny Hale writes touching, beautiful stories."—RaeAnne Thayne, New York Times bestselling author

"[Read] for the grumpy-with-a-heart-made-of-ice coffee shop owner. . . . This book will bring Christmas joy and festive magic to your life!"—Buzzfeed on Christmas at Fireside Cabins

"Hale (Summer at Firefly Beach) brings the beauty of the Great Smoky Mountains alive in this heartwarming Christmas romance. . . . Authentic, dimensional characters enhance the emotionally charged love story. Fast-paced and brimming with holiday spirit, this is sure to please."—Publishers Weekly on Christmas at Silver Falls

"[A] tender treat that can be savored in any season."—Publishers Weekly, Starred Review, on Christmas Wishes and Mistletoe Kisses