My Best Friend, Maybe (Hardcover)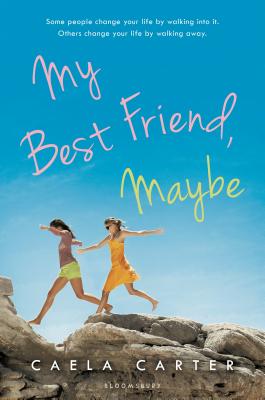 $17.99
Currently unavailable from publisher and distributor
Description
---
Right before they started high school, Colette's best friend, Sadie, dumped her. Three years later, Colette is still lonely. She tries to be perfect for everyone left in her life: her parents, her younger brothers, her church youth group, even her boyfriend, Mark. But Colette is restless. And she misses Sadie.

Then Sadie tells Colette that she needs her old friend to join her on a family vacation to the Greek Islands, one that leaves in only a few days, and Colette is shocked to hear their old magic word: need. And she finds herself agreeing.

Colette tries to relax and enjoy her Grecian surroundings but it's not easy to go on vacation with the person who hurt you most in the world. When the reason for the trip finally surfaces, Colette finds out this is not just a fun vacation. Sadie has kept an enormous secret from Colette for years . . . forever. It's a summer full of surprises, but that just might be what Colette needs.
About the Author
---
CAELA CARTER is the author of Me, Him, Them, and It. She's also a student at the New School's MFA program, concentrating in writing for children. Currently a middle school librarian, she spent six years teaching, and one summer educating and counseling young mothers and pregnant teenagers. She also writes for Teen Writers Bloc, a blog on children's literature.
Praise For…
---
"Vivid descriptions of the unusual landscape of Santorini will fascinate readers looking for a good travelogue, and the perceptive and heartfelt relationship dynamics will only add to the appeal." —Kirkus Reviews

"A realistic look at the ways relationships can change and wither . . . Stunning descriptions of Greece and a small cast of well-developed secondary characters round out this affecting story about identity." —School Library Journal

"Fast-paced, enjoyable." —VOYA

"Carter weaves together classic elements of a coming-of-age summer-adventure story with poignant explorations of independence, sexuality, coming out, and the harmfulness of striving for perfection. Leavened with a sweet touch of romance, this meaningful tale of second-chance friendship should appeal to older teens looking for a meatier summer read." —Booklist

"Readers bidding farewell to their own childhood selves will empathize with Colette as she emerges from the cocoon of past thinking into the confusing world of making up her own mind." —BCCB

"Evie is the wisest, funniest, most conflicted narrator since Juno." —National Book Award finalist Patricia McCormick, on Me, Him, Them, and It

"Raw and unflinching . . . Readers looking for a bold and gripping addition to their bookshelf will not be disappointed--and will not be able to put this book down!" —Jennifer Brown, author of Hate List and Bitter End, on Me, Him, Them, and It

"Deftly captures the emotional complexities of teenage pregnancy . . . For readers looking for genres that express the stark realities of life with all their highs and lows, this book will be one to recommend." —VOYA, on Me, Him, Them, and It

"Breathtaking, brutal, and beautifully real, Carter's debut is stunning." —Romantic Times, on Me, Him, Them, and It