Sex in God's Temple: 15 Easy Ways to Understand, Identify and Overcome Sexual Immorality and Emotional Traps in Your Life (Paperback)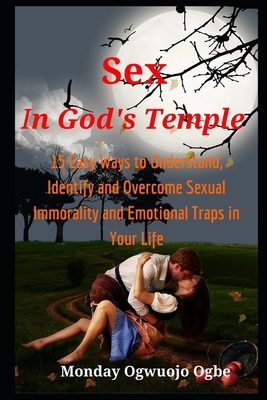 $19.99
Currently unavailable from publisher and distributor
Description
---
Sex in God's Temple
15 Easy Ways to Understand, Identify and Overcome Sexual Immorality and Emotional Traps in Your Life
Sex in God's Temple - 15 Easy Ways to Understand, Identify and Overcome Sexual Immorality and Emotional Traps in Your Life was written as a practical "how to" book to help you end sexual and emotional entanglement forever.What is my motivation for writing this book, why would you want to read it and apply it to your life?The Motivation: The incidence of believers becoming trapped in destructive entanglements seems to have increased and continues to be a source of pain and heartache for singles and families alike. Sexual immorality knows no boundaries. Its insidious influence has spread into institutions and homes of well-intended people who seek to live moral, Christian lives. The internet with all its goodies does not help matters at all. The internet has made the private consumption of illicit material possible through one's home computer or mobile device (Phone). Young and old alike can access not only pornography but also engage in virtual emotional relationship with complete strangers on the other side of the world. Even if physical contact never occurs, the damage to a marriage can be devastating when the online relationship becomes enticingly important to one of the spouses. Children, Young and old, missionaries, pastors, or lay members are not immune to the invasion of pornographic content on devices that leaves images which usually lingers to the point of getting entrapped. I have been called to advise on types of software that could help prevent these invaders from taking in more casualties.
The television and movies continue to expose viewers to ever more tantalizing images and content that can draw us further into compromising lifestyles.We have engaged Christian authors that have proven scriptural practical solutions to avoid the pitfalls of sexual immorality. There are also real life stories that we can learn from in charting our own course. I have also realized from my own experiences after over 25 years of my Christian journey that rarely do we teach about sexual matters from our pulpit. Yet our homes, which is the bedrock of society have suffered untold consequences as a result of the issue of sexual and emotional entrapment and entanglement either in marriages, outside marriages, in schools, in our offices or our marketplaces and in the environment giving birth to Me Too Movements, Gender Inequality struggles, Sex for Marks in our Universities, Sex for promotions in the workplace, Sex for Transfer, Sex for privileges, Sex for Contracts etc. These developments come as a shock to many believers who are ill-prepared to handle such enormous temptations they have to endure which has led them to become victims of workplace pressures. I also hope and pray that church leaders will equip their members with more of these types of topic that has become so prevalent in our day and age, especially with the advent of the digital world.
The book, Sex in God's Temple - came from a 4 month long articles via our blog on Otakada.org which is now combined and redacted in one piece for your use. The Why you would want to read it: It is written to help anyone, especially Christians struggling secretly or publicly with any form of sexual immorality and emotional traps. None of us are immune from the temptations surrounding us. But all of us are able, with God's help, to make positive changes in our lives that bring fulfillment far beyond the temporary satisfaction that sexual immorality offers. Some of the words covered: sexual assault in the church, victims of sexual abuse in the church, victims of sexual abuse in catholic church, victims of sexual abuse by priest, sexual abusers in the church, extreme sexual torture, celibacy crisis celibacy in crisis.