The Jolliest Bunch: Unhinged Holiday Stories (Hardcover)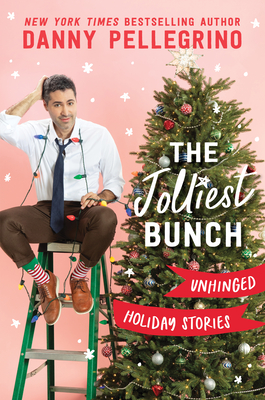 $27.99

Usually Ships in 1-5 Days
Description
---
From the New York Times bestselling author of How Do I Un-Remember This? and host of the hit podcast Everything Iconic with Danny Pellegrino comes a collection of tragically hilarious holiday mishaps.
For many families, the holiday season is—quite frankly—unhinged. Whether that involves inappropriately improvised monologues at the children's Christmas pageant, gifts that land someone in the emergency room, or just sitting through the emotional rollercoaster of a Hallmark movie marathon, the holidays are a chaotic and magical time. And nobody knows this better than Danny Pellegrino.
For Danny, the holidays are always accompanied by both merriment and mayhem. And like the gay Ghost of Christmas Past, he's here to take you on a nostalgic trip through his most festive memories in a collection of stories that are heartfelt, hilarious, and (unfortunately) true. 
So grab your favorite winter beverage, snuggle up by the crackling fireplace, and turn up the holiday tunes from the pop diva of your choosing. The Jolliest Bunch is a healthy dose of holiday cheer to prepare you for the unhinged season ahead and remind you of the moments that make all the chaos worth it.
About the Author
---
Danny is the New York Times bestselling author of How Do I Un-Remember This?: Unfortunately True Stories and The Jolliest Bunch: Unhinged Holiday Stories. He's also a comedian, actor, and screenwriter who created and hosts the hit podcast Everything Iconic with Danny Pellegrino. Guests include people like Drew Barrymore, Kelly Ripa, Keke Palmer, Katie Couric, Rosie O'Donnell, Elizabeth Olsen, Andy Cohen, Cameron Diaz, Miss Piggy, and more!
Danny is from Solon, Ohio, and can be found on social media via @DannyPellegrino, or in front of the TV with a glass of bed wine.
Praise For…
---
"As a comedian, writer, and walking, talking, '90s pop culture encyclopedia, Danny Pellegrino is as brilliant, sharp, and funny as they come. His authenticity and wit in storytelling are unmatched. Enjoy his book and laugh your you-know-what off again and again." —
Drew Barrymore, New York Times bestselling author of Wildflower
"The
Jolliest Bunch
is a hilarious holiday horror show filled with heart. His essays make me feel seen, and I'm not just saying that because he mentions me on page thirty. A must read for anyone who lives for and loathes the holidays. Stuff your stockings with this book!" —
Kelly Ripa, New York Times bestselling author of Live Wire
"Pellegrino's holiday misadventures will leave readers laughing at his festive audacity... Brief and punchy, these essays are perfect for readers who love the holidays and can laugh at the absurdity surrounding them." — Booklist
"I was already a fan of Danny Pellegrino's one-of-a-kind storytelling on Everything Iconic. This holiday collection proves he's so much more than a brilliant podcaster—he's a gifted writer. Emotionally rewarding and wildly entertaining,
The Jolliest Bunch
is destined to become a seasonal classic. Start an annual tradition by sharing (and re-sharing) these laugh-and-cry-out-loud tales of gay Halloween ghosts, boozy Thanksgiving meltdowns, and the most divalicious Christmas music mix ever created." —
Megan McCafferty, New York Times bestselling author
"I haven't laughed this hard reading a book ever. It feels like catching up with an old friend over mugs of mulled wine or peppermint mochas." —
Erin Carlson, author of I'll Have What She's Having and Queen Meryl
""Danny Pellegrino's collection of essays goes down like a mug of hot cocoa that will occasionally come laugh-snorting out of your nose. Wise, funny, and deeply personal, his writing emanates warmth and coziness from every page."
— Jessica Knoll, New York Times bestselling author of Luckiest Girl Alive 
" —
Jessica Knoll, New York Times bestselling author of Luckiest Girl Alive 
"This enjoyable and entertaining collection succeeds in its mission to make the season bright." — Publishers Weekly