Reactive (Paperback)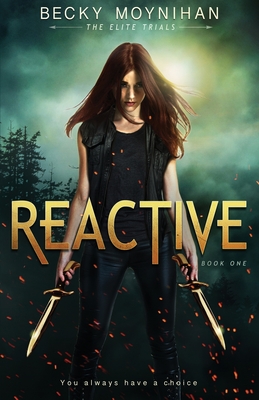 $13.99

Usually Ships in 1-5 Days
This books is not returnable and requires prepayment.
Description
---
For fans of the Hunger Games, Divergent, and Shatter Me series comes an emotional, action-packed story of resilience, second chances, and fierce love.
AN INESCAPABLE CITY. THREE DEADLY TRIALS. ONE WAY OUT.
Lune Tatum, adopted daughter of the Supreme Elite, has lived within her father's walled city for eleven years.
But she wants out.
Except she can't leave, and not because of the clans and mutated beasts that roam beyond the impenetrable, electrified walls protecting her life. Her plan has always been to win the Elite Trials and earn Title of Choice-her only chance at freedom. And the only way to return home to her mother.
Then a boy from her past arrives on her eighteenth birthday. His presence threatens Lune's carefully laid plans and exposes memories she's desperate to forget. He can't be trusted. Especially as he possesses dangerous secrets. And what he reveals could ruin the chance at freedom she's willing to die for.
THE ELITE TRIALS trilogy is the thrilling adventure of Lune Tatum as she fights for freedom in a futuristic dystopian world plagued by danger, secrets, and betrayal.
"Hunger Games meets Divergent." This fast-paced ride is a unique blend of sci-fi and fantasy, with a splash of supernatural. Perfect for fans of snarky heroines, alpha males, and enemies-to-lovers. 12+ recommendation
One-click this romantic, dystopian adventure today
The Elite Trials trilogy: (complete series)
Book 1: Reactive
Book 2: Adaptive
Book 3: Immersive