With Stale Bread, You Make Bread Pudding!: My Childhood Among the People and Food of the Virginia Grill Restaurant (Large Print / Paperback)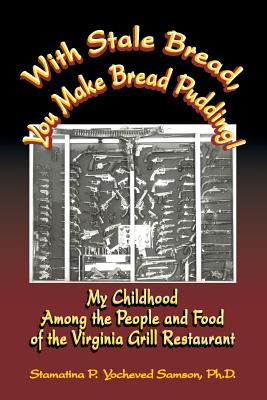 $9.95

Usually Ships in 1-5 Days
This books is not returnable and requires prepayment.
Description
---
An immigrant-owned, working-man's, downtown middle-America restaurant in the 1960s, is the real life stage for Dr. Samson's childhood recollections.
Her father, Paul Vavul, immigrated from Greece to the United States and eventually chose Indianapolis, Indiana, as his home. Functionally illiterate, he created the Virginia Grill in 1939 with a blend of keen intelligence and street savvy.
In numerous wall display cases, patrons to the restaurant could view Mr. Vavul's collection of guns which he proclaimed to be the single largest in the Midwest. His gun collection became his iconic advertising tool for the restaurant, and were centrally featured on all Virginia Grill promotional items.
In vivid stories, Dr. Samson tells us what it was like being a child of immigrants, and the range of characters she encountered at the restaurant, both behind and in front of the counter---all from her unique, thoughtful, and personable perspective.
Her stories, along with her numerous black and white photos, provide a fascinating window on civil rights era Indianapolis.