Good Night Stories for Rebel Girls 2-Book Gift Set (Boxed Set)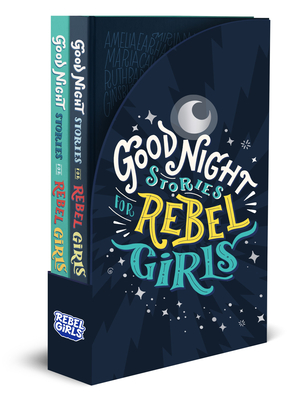 $65.00

Usually Ships in 1-5 Days
Description
---


Good Night Stories for Rebel Girls 2-Book Gift Set contains the first two volumes of the Good Night Stories for Rebel Girls series in hardcover, packaged in a gorgeous, giftable box. The set features 200 tales of extraordinary real-life women, all written in fairy tale form.

Good Night Stories for Rebel Girls 2-Book Gift Set brings two trailblazing and best-selling volumes together in a beautiful, reusable case, shrink-wrapped to ensure scuff-free arrival.

The set contains hardcovers of Good Night Stories for Rebel Girls and Good Night Stories for Rebel Girls 2, featuring extraordinary tales of queens and activists, ballerinas and pirates, scientists and inventors, and many other exciting women throughout history.

The unique narrative style transforms each biography into a fairy tale, filling readers with wonder and a burning curiosity to know more about each subject. Illustrated by 70 female artists from all over the globe, this gift set inspires girls to dream bigger, aim higher, and fight harder.
About the Author
---
FRANCESCA CAVALLO is a New York Times best-selling author, activist, and entrepreneur. She is the founder and leader of Undercats, Inc.

ELENA FAVILLI is a New York Times best-selling author. She is the cofounder of Rebel Girls and serves on the board, leading all impact initiatives.

REBEL GIRLS is a global, multi-platform empowerment brand dedicated to helping raise the most inspired and confident generation of girls through content, experiences, products, and community. Originating from an international best-selling children's book, Rebel Girls amplifies stories of real-life women throughout history, geography, and field of excellence. With a growing community of nearly 20 million self-identified Rebel Girls spanning more than 100 countries, the brand engages with Generation Alpha through its book series, award-winning podcast, events, and merchandise. With the 2021 launch of the Rebel Girls app, the company has created a flagship destination for girls to explore a wondrous world filled with inspiring true stories of extraordinary women.