Escape Route (Paperback)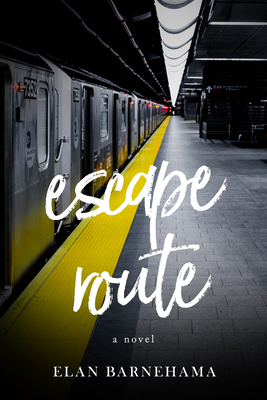 $19.99

Usually Ships in 1-5 Days
Description
---
Escape Route is set in New York City during the tumultuous late 1960s. Told by teenager Zach, a first-generation son of Holocaust survivors and NY Mets fan, who becomes obsessed with the Vietnam War and with finding an escape route for his family for when he believes the US will round up and incarcerate its Jews. Zach meets Samm, a seventh-generation Manhattanite whose brother has returned from Vietnam with PTSD. Together they explore protest, friendship, music, faith, and love during a time littered with hope and upheaval around the globe.
About the Author
---
Escape Route is Elan Barnehama's second novel. His work has appeared in Drunk Monkeys, Entropy, Rough Cut Press, Boston Accent, Jewish Fiction, HuffPost, the New York Journal of Books, Public Radio, and elsewhere. He was a presenter at the 2019 Boston Book Festival, a Writer-In-Residence at Wildacres, NC, and Fairhope Center for the Writing Arts, Fairhope, AL, and the fiction editor at Forth Magazine LA. He earned an MFA from UMass, Amherst, and a BA from Binghamton U. Elan has taught college writing, has worked with at-risk youth, had a gig as a radio news guy, and did a mediocre job as a short-order cook. He's a New Yorker by geography. A Mets fan by default.
Praise For…
---
"Elan Barnehama has given us a powerful coming of age story set against the tumult of the 1960s, the War in Vietnam, and the power of memory and Jewish identity in a family of Holocaust survivors. This is a beautifully rendered novel, populated by unforgettable characters in an unforgettable time. Barnehama is a literary craftsman at the top of his game. Superb."  —Frye Gaillard, author of A Hard Rain: America in the 1960s, an NPR Great Read 2018

 

"The novel is totally charming, completely engrossing, moving, real. I love those characters- Zach, because of his way of throwing out those witty remarks and he has so much heart and courage. And Samm, because she is so cool and holy smokes, if I could only have been anything like her at that age. And the grandfather, of course."  —Kiki Smith, Professor of Theatre, Smith College, Obie Award winner for Costume Design

"With nearly incandescent prose, Barnehama deftly stitches the reader's heart to his glowing characters, then gently tugs and tugs and tugs—"  —Marvin J. Wolf, author of Abandoned In Hell, and They Were Soldiers: The Sacrifices and Contributions of Our Vietnam Veterans.

"A precocious adolescent boy comes of age in New York in the tumultuous late Sixties in Elan Barnehama's poignant novel about youth and friendship and social unrest. Barnehama deftly links the upheavals of the day to his parents' dark past as Holocaust survivors. The Vietnam war bleeds onto the streets, peril is everywhere, but so is hope. Escape Route is a celebration of friendship with a Sixties soundtrack and youthful yearning for a better world at a time when Dylan was pitching, with 'Hendrix at short.'"  —William Luvaas, author of The Seductions of Natalie Bach and Ashes Rain Down: A Story Cycle, the Huffington Post's 2013 Book of the Year

"Barnehama sets a coming of age story against a tumultuous backdrop of war and the civil rights movement while exploring the generational trauma of the Shoah. All wrapped up in a witty protagonist who has just celebrated his Bar Mitzvah. Zach embodies Tikun Olam, a concept in the Jewish faith, seeking to repair the world. This is an emotional story of friendship and hope."  —Heidi Slowinki, author of The House on Maple Street, contributor to the Jewish Book Carnival.