Souls and Sorrows (Paperback)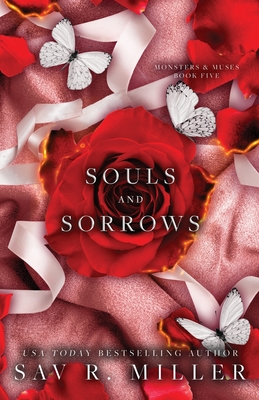 $17.99

Usually Ships in 1-5 Days
Description
---
From USA Today bestselling author Sav R. Miller comes a marriage of convenience romance inspired by the Eros and Psyche myth.
Cash Primrose takes his namesake seriously. As a successful environmental lawyer, work is his focus, and he has no room on his plate for anything else. That is, until an ex-ballerina gets herself into a bind at an underground auction, and he becomes so enamored with her that he ends up placing a bid.
A quarter of a billion dollars later, and suddenly Cash is married to more than just his career. Not to mention, his new wife is a complete nightmare.
As the middle daughter of a once-prominent crime family, and her mother's former punching bag, Ariana Ricci is no stranger to grappling for control. She relies on seduction and violence to get what she wants, and thinks her new husband will be just as easy to manipulate as the men she's used to dealing with.
Only, Cash is different. He won't touch Ariana, doesn't retaliate when she lashes out in anger, and, in spite of their temporary status, sticks up for her when he could just let her get into trouble.
He isn't exactly kind, but perhaps the stoic, secretive lawyer is precisely what she needs to start healing once and for all.
Souls and Sorrows is a dark romance inspired by the myth of Eros and Psyche. It contains material not suitable for all audiences. Reader discretion is advised. Please see author's website for detailed list of content warnings.