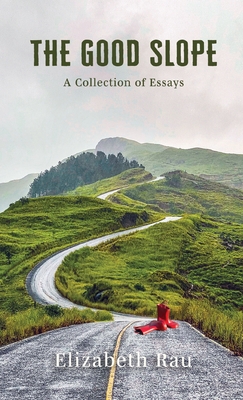 Moving, bold, and funny, The Good Slope: A Collection of Essays by Elizabeth Rau captures the poignancy of ordinary life through the voices of everyday people--children, friends, neighbors, and even the mail carrier. In vivid and lyrical prose, she chronicles her childhood in the Midwest, her many years as a newspaper reporter, and, above all, her plunge into motherhood in middle age. At a time when some writers tend to grouse about raising children, Rau revels in her good fortune and the day-to-day: teaching her younger son how to read using "Garfield" comic books; encouraging her older son to design his grandmother's gravestone; observing the motley crew of boys who patronize "the yellow house" for years, bringing their wit, charm, and stuff, from yo-yos to baseball gloves. Along the way we meet characters in her neighborhood, like Ed the mailman whose true passion is growing and selling daylilies because they are "beautiful and resilient and won't die on you." Engaging, yet never indulgent, the collection elevates moments we take for granted into luminous stories about the experience of home. (available in Hardcover and Paperback)
Elizabeth Rau is an award-winning writer and a former newspaper reporter whose work has appeared in The Providence Journal, East Side Monthly, Rhode Island Monthly, The Boston Globe, Providence Phoenix and many other publications. She grew up in the Midwest and lives in Providence with her family.
Ed Iannuccilli, a retired gastroenterologist, has had extensive experience in academics, management, governance, and entrepreneurial endeavors. Former Chairman of the Board at Rhode Island Hospital, he is a Clinical Professor Emeritus at The Warren Alpert Medical School at Brown University. Dr. Iannuccilli is a graduate of Providence College and Albany Medical College. Dr. Iannuccilli has been on numerous boards and was honored as a distinguished alumnus of Classical High School in 2014 and Albany Medical College in 1991. He was recently inducted into The RI Heritage Hall of Fame. Currently a weekly columnist for GoLocalProv, he is the author of six books: Growing up Italian, Grandfather's Fig Tree and Other Stories; What Ever Happened to Sunday Dinner and Other Stories; My Story Continues: From Neighborhood to Junior High School; Growing Up Italian Collected Stories; A Whole Bunch of 500-Word Stories; and Essays on the Art and Pain of Downsizing.
When:
Saturday, June 17, 2023 - 3:00pm
Where:
In Store, 184 County Rd, Barrington, RI