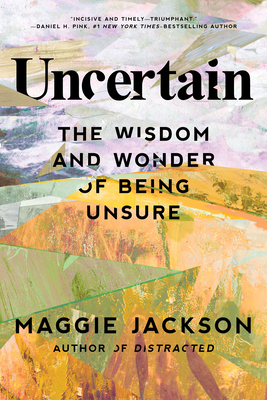 Join us on Saturday November 18 at 3pm in the Salem Family Auditorium of the Barrington Public Library for an Author Talk with Maggie Jackson as she launches her new book Uncertain: The Wisdom and Wonder of Being Unsure.
This is a ticket event and requires a reservation. Click here to make your reservation through EventBrite!
About the Book:
A revolutionary guide to flourishing in times of flux and angst by harnessing the overlooked power of our uncertainty.
In an era of terrifying unpredictability, we race to address complex crises with quick, sure algorithms, bullet points, and tweets. How could we find the clarity and vision so urgently needed today by being unsure? Uncertain is about the triumph of doing just that. A scientific adventure tale set on the front lines of a volatile era, this epiphany of a book by award-winning author Maggie Jackson shows us how to skillfully confront the unexpected and the unknown, and how to harness not-knowing in the service of wisdom, invention, mutual understanding, and resilience.
Long neglected as a topic of study and widely treated as a shameful flaw, uncertainty is revealed to be a crucial gadfly of the mind, jolting us from the routine and the assumed into a space for exploring unseen meaning. Far from luring us into inertia, uncertainty is the mindset most needed in times of flux and a remarkable antidote to the narrow-mindedness of our day.
In laboratories, political campaigns, and on the frontiers of artificial intelligence, Jackson meets the pioneers decoding the surprising gifts of being unsure. Each chapter examines a mode of uncertainty-in-action, from creative reverie to the dissent that spurs team success. Step by step, the art and science of uncertainty reveal being unsure as a skill set for incisive thinking and day-to-day flourishing.
About the Author:
Maggie Jackson is an award-winning author and journalist known for her pioneering writings on social trends, particularly technology's impact on humanity. Winner of the 2020 Dorothy Lee Book Award for excellence in technology criticism, Distracted was compared by FastCompany.com to Silent Spring for its prescient critique of technology's excesses, named a Best Summer Book by the Seattle Post-Intelligencer, and was a prime inspiration for Google's 2018 global initiative to promote digital well-being. Maggie Jackson's expertise has been featured in The New York Times, Business Week, Vanity Fair, Wired.com, O Magazine, and The Times of London; on MSNBC, NPR's All Things Considered, Oprah Radio, The Takeaway, and on the Diane Rehm Show and the Brian Lehrer Show; and in multiple TV segments and film documentaries worldwide. Her speaking career includes appearances at Google, Harvard Business School, and the Chautauqua Institute. Jackson lives with her family in New York and Rhode Island.
When:
Saturday, November 18, 2023 - 3:00pm
Where:
Barrington Public Library, 281 County Rd, Barrington, RI