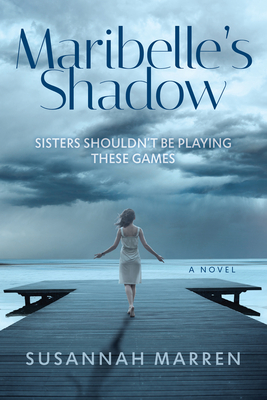 Barrington Books, in partnership with the Barrington Public Library, proudly presents Susannah Marren for a book discussion and signing for the launch of her latest novel, MARIBELLE'S SHADOW on Wednesday, July 19th at 7:00pm in the Salem Family Auditorium of the Barrington Public Library. This ticketed event is free and open to the public for the discussion portion only. Tickets for book-signing line include a copy of the book. Susannah will be in-conversation with best-selling author Vanessa Lillie. Click here to register for the event!
A compelling tale of betrayal and lies, deception and ambition, Maribelle's Shadow is a memorable novel about what lurks beneath family loyalty.
The only thing that spreads faster than gossip in Palm Beach is news of a mysterious death.
Maribelle Walker deserves to be envied. As the editorial director of Palm Beach Confidential and with Samuel, her impressive husband, by her side, they are the "It" couple of Palm Beach. Maribelle might have even surpassed her two stunning younger sisters.
But when Samuel unexpectedly dies, suspicion suddenly swirls around the Barrows family and their privileged existence is called into question. The lavish image of prada and prestige their mother Lucinda carefully constructed begins to unravel. Maribelle and her sisters, Caroline and Raleigh, have to face facts: things aren't always what they seem.
Maribelle's Shadow goes on sale June 27th!
ABOUT THE AUTHOR:
Susannah Marren is the author of Between the Tides, A Palm Beach Wife and A Palm Beach Scandal, and the pseudonym for Susan Shapiro Barash, who has written over a dozen nonfiction books, including Tripping the Prom Queen, Toxic Friends, You're Grounded Forever, But First Let's Go Shopping, and A Passion for More. For her nonfiction, she has been featured in The New York Times, The Wall Street Journal, The New York Post, The Chicago Tribune, Elle, and Marie Claire.
She has appeared on national television including the Today Show, Good Morning America, CBS, CNN, and MSNBC. Barash has been a guest on national radio including NPR and Sirius Radio.
For over twenty years she has taught gender studies at Marymount Manhattan College and has guest taught creative nonfiction at the Writing Institute at Sarah Lawrence College. Presently she is teaching at the Westport Writers Workshop.
When:
Wednesday, July 19, 2023 - 7:00pm
Where:
Barrington Public Library, 281 County Rd, Barrington, RI