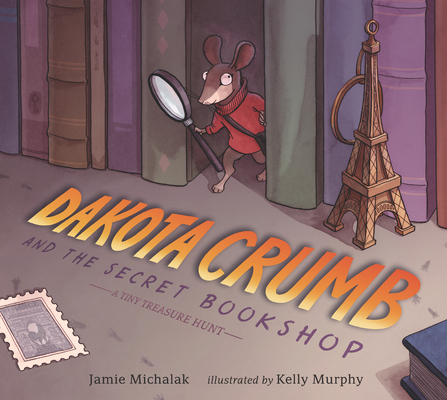 Join us for the book launch of Dakota Crumb and The Secret Bookshop. Available for preorder now!
Ooh la la! Tiny, intrepid Dakota Crumb is back—hunting for bookish treasure in the City of Light.

In a second rollicking adventure, petite mouse treasure-hunter Dakota Crumb has been summoned abroad for a top-secret mission: to help her cousin locate a rare and priceless book. Armed with a mysterious note and clues to guide her through the unexpected perils of a charming Parisian bookshop, Dakota uses her sharp eyes and a knack for scaling heights to make a surprising discovery: a roomful of fellow mice gathered to celebrate—her! Readers will revel in a seek-and-find challenge that sends them back to pore over dynamic spreads in search of even more treasures.
Jamie Michalak is the author of Dakota Crumb: Tiny Treasure Hunter, illustrated by Kelly Murphy; the Frank and Bean books, illustrated by Bob Kolar; the Joe and Sparky series, illustrated by Frank Remkiewicz; and many other acclaimed titles for young readers. She lives in Rhode Island.

Kelly Murphy is the award-winning author-illustrator of The Boll Weevil Ball and illustrator of Dakota Crumb: Tiny Treasure Hunter by Jamie Michalak; Creepy Monsters, Sleepy Monsters and Romping Monsters, Stomping Monsters, both by Jane Yolen; and many other picture books and chapter books. She lives in Rhode Island.
Missed the first Dakota Crumb book? Order it now: Dakota Crumb: Tiny Treasure Hunter.
When:
Saturday, May 6, 2023 - 11:30am
Where:
In Store, 184 County Rd, Barrington, RI