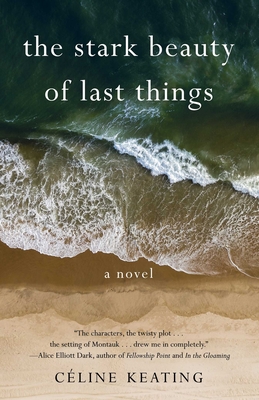 Join us at the Barrington Public Library as Céline Keating and Tina Egnoski discuss Céline's newest book "The Stark Beauty of Last Things - release date 10/24/23.
This event requires a reservation. Click here to reserve your spot!
About the book:
The Stark Beauty of Last Things is set in Montauk, the far reaches of the famed Hamptons, an area under looming threat from a warming climate and overdevelopment. Now outsider Clancy, a thirty-six-year-old claims adjuster scarred by his orphan childhood, has inherited an unexpected legacy: the power to decide the fate of Montauk's last parcel of undeveloped land.
Everyone in town has a stake in the outcome, among them Julienne, an environmentalist and painter fighting to save the landscape that inspires her art; Theresa, a bartender whose trailer park home is jeopardized by coastal erosion; and Molly and Billy, who are struggling to hold onto their property against pressure to sell. When a forest fire breaks out, Clancy comes under suspicion for arson, complicating his efforts to navigate competing agendas for the best uses of the land and to find the healing and home he has always longed for.
Told from multiple points of view, The Stark Beauty of Last Things explores our connection to nature--and what we stand to lose when that connection is severed.
About Céline Keating:
Céline Keating is an award-winning writer formerly of New York City and now living in Bristol, Rhode Island. She is the author of two novels, Layla (2011), a Huffington Post featured title, and the award-winning Play for Me (2015).
About Tina Egnoski:
Originally from Florida, Tina Egnoski now lives in Bristol, RI. She has written several books including You Can Tell Me Anything and Burn Down this World. She leads community-based writing workshops and makes handmade paper and journals as seen on her Instagram @booksbookspaper.
When:
Thursday, November 2, 2023 - 6:30pm
Where:
Barrington Public Library, 281 County Rd, Barrington, RI