Please join us at Barrington Books
for a book signing with
Traer Scott,
the local author and photographer of
Puppy Life:
The First Eight Weeks of Bonding, Playing, and Growing
*As a special treat, EGAPL Heart of RI will be here too, with adorable puppies that are up for adoption!
About the book:
The perfect gift for dog lovers and new puppy parents alike, Puppy Life follows the stages of development of six litters of puppies across breeds from birth through eight weeks. Featuring 120 full-color photographs from best-selling animal photographer Traer Scott, this exploration of puppyhood is ideal for fans of The Dogist and Finding Home.

Tracing six litters of puppies from birth through eight weeks, Traer Scott takes you on a photographic journey through puppyhood. Her full-color photography provides a visual diary of how dogs mature and grow, as well as information about each stage of puppy development leading up to the day each puppy goes to its forever home.

Follow the stories of these litters across different ages, with informative text about each breed and developmental stage:

• English Setters
• Great Pyrenees
• Cavalier King Charles Spaniels
• Labradors
• Mixed Breed

Adorable and educational, this beautifully photographed guide to puppies is sure to melt your heart.
About the author:
Traer Scott is an award-winning photographer and bestselling author of 13 books, specializing in animal photography, the human/animal bond and conservation-themed fine art photography. Scott's work has been exhibited around the world and has appeared in National Geographic, Time, La Monde, Life, Der Stern, the New York Times LensBlog, and dozens of other national and international publications. She lives in Providence, Rhode Island.
About EGAPL Heart of RI:
Mission Statement: As a non-profit shelter, EGAPL Heart of RI is committed to the rescue, quality care, and adoption of companion animals into forever homes. We will always support and share the valuable lessons of kindness, respect, and responsibility for animals and we will continue our efforts toward building humane communities.
When:
Saturday, November 12, 2022 -

2:00pm

to

3:30pm
Where:
Barrington Books, 184 County Road, Barrington, RI 02806
Books: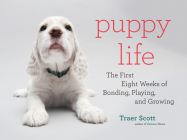 $21.95

ISBN: 9781648961304
Availability: Usually Ships in 1-5 Days
Published: Princeton Architectural Press - October 25th, 2022
---